Cairo University
Faculty of Physical Therapy – Cairo University Honors The Outstanding Athletes of Those With Special Needs at the Opening Ceremony of "No Disability" Conference
Date :2015-03-08 23:43:15
The sixteenth international scientific conference, entitled "No Disability", has been inaugurated on Thursday, March 5, 2015, by Prof. Dr.\ Gaber Nassar, Cairo University President, at Grand Celebration Hall.
The ceremony has been attended by Dr.\ Essam Sharaf, The Former Prime Minister, Dr.\ Gamal Essmat, Vice President of Cairo University for Graduate Studies and Research Affairs, Dr.\ Alaa Balbaa, Dean of Faculty of Physical Therapy, Cairo University, Dr.\ Mohamed Omar, President of Arab Union for Physical Therapy, Dr.\ Samy Saad, Chief of Physical Therapy Syndicate, as well as elite of physical Therapy deans and professors at the levels of Egyptian universities level and academic staff.
Dr.\ Essam Sharaf has said in a speech he delivered at the opening ceremony of the conference that disability without the society's help will be a dream end, whereas it can be the beginning of a dream achievement through the society's help, as achieving this dream is regarded a comprehensive social responsibility.
Nassar has asserted, in his speech, the importance of this conference which comes into contact with an important issue which the society should be occupied with because real disability is represented in abandoning people with special needs by society and state and neglecting the resolution of their problems and the investment of their energies regarding the benefit of society. The Egyptian and Arab Society have fallen behind caring about those with disabilities which can never come without science, serious work and investing the energies of those with special needs. He stressed the importance of coming out with procedural receipt for solving all the problems which surround people with special needs.
Dr.\ Gamal Essmat has commended the great role made by Faculty of Physical Therapy, qualifying it to get accreditation and quality. He has also congratulated the faculty for allocating a land to become a rehabilitation center that serves the whole Arab World. Essmat has also added that Cairo University has the greatest number of faculties at the level of the Egyptian Universities accredited by National Authority of Quality Assurance and Accreditation, besides the scientific research and international publication which is conducted by the university and Faculty of Physical Therapy greatly contributes in.
Dr.\ Alaa Balbaa has said that the disabled persons greatly affect their families and that the society's help is a must in exploiting the capabilities of people with special needs in all fields; science, sport, literature, etc. He has also said that the new disability center will include a factory for artificial limbs and recreational toys city for those with special needs. It aims at qualifying those with special needs to integrate into society in order to be enabled to serve themselves and their societies.
Dr.\ Samy Saad, The Chief of Physical Therapy Syndicate, has said that disability does not mean physical, kinetic or mental disability, as there are now in Egypt who try to disturb life and hinder the development of Egypt. He has also said that the hugest building at the Middle East will be inaugurated soon, namely; General Physical Therapy Syndicate, at El Tagamoa El Khames.
Finally, at the end of the opening ceremony Dr. Gaber Nassar, President of Cairo University, and Dr.\ Essam Sharaf, have honored Dr. Mohammed Gamil El-Hanak, Former Dean of Faculty of Physical Therapy, who is one of the pioneers and founders of physical therapy profession in Egypt and the Middle East, as well as honoring Dr. Mohammed Omar, Head of the Arab Union for Physical Therapy, and Dr.\ Sami Saad Chief of the Physical Therapy Syndicate, and honoring the outstanding athletes with special needs and taking souvenir photos with them.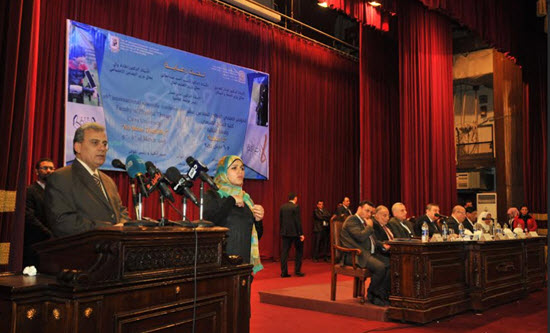 ---