Cairo University
Cairo University President Continues Meetings with Faculty Student Unions
Date :2015-12-17 21:58:12
Prof. Dr. Gaber Nassar, Cairo University President, confirmed that the university administration is working on coordinating with the university student union, interacting with them to promote student services and offering support to the union which represents a student base for the university. He pointed out that his meetings with faculty student unions are designed to develop mechanisms for dealing with the university administration and faculty administrations to solve student problems and strengthen the role of student union in serving students.
This was stated during the meetings of Cairo University President with some student unions at a number of faculties in the presence of faculty deans.
Cairo University President said that ،، even if we disagreed, the disagreement would add to the university,, and the university administration welcomes various student point of views which should serve the educational process. He confirmed that the university student union and faculty student union should develop plans and tasks for the activities that serve students whether at the university or faculty levels.
Nassar confirmed that the university has not interfere in student elections, including its various phases, pointing out that students have the right to select who represent and express them. He added that the university has many activities that need the contribution of the student union with its vision and ideas, pointing out the importance of thinking in a method for working with the university to develop the social services offered to students.
Cairo University President is to continue his meetings with the rest of faculty student unions next week.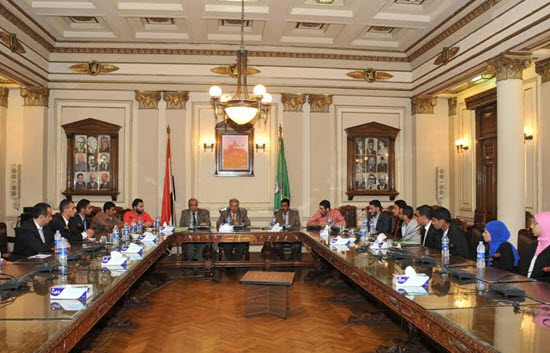 ---