Cairo University
Cairo University President Witnesses Memorial Ceremony of Late Dr. Mahmoud El-Menawy, Commends his Medical and Ideological Contributions
Date :2016-01-11 23:00:37
Prof. Dr. Gaber Nassar, Cairo University President, witnessed the memorial ceremony held by the university for the late Dr. Mahmoud El-Menawy, Professor of Obstetrics and Gynecology and Pioneer of Endoscopic Surgery at Faculty of Medicine, Cairo University. The memorial ceremony was held at the New Central Library at the university campus. It was attended by a number of public figures, including Amr Mousa, Secretary-General of the League of Arab States, Dr. Mustafa El-Fikky, a number of university and faculty professors, and the fellows and family of the late professor.

In his speech over the memorial, Prof. Dr. Nassar commended the contributions of the late great Dr. El-Menawy in the medicine field and medical education. He said that the great scientist never stopped recording, writing, composing or revising and established Cairo University Museum. Nassar added that Cairo University Museum – Central Library was named by the university after the late Dr. Mahmoud El-Menawy.

Amr Mousa commended the ideological and literary contributions of the late scientist. Dr. Mustafa El-Fikky said that El-Menawy is a polymath and he was the first to introduce sonar and endoscopy to the Obstetrics field.

Noteworthy, Dr. Mahmoud El-Menawy passed away in mid-September, 2015. He chronicled Kasr Al-Ainy history before his death, and won the membership of Arabic Language Academy and Institut dÉgypte. He also won State Award of Merit and Order of Merit for Science and Art (First Class) before his death.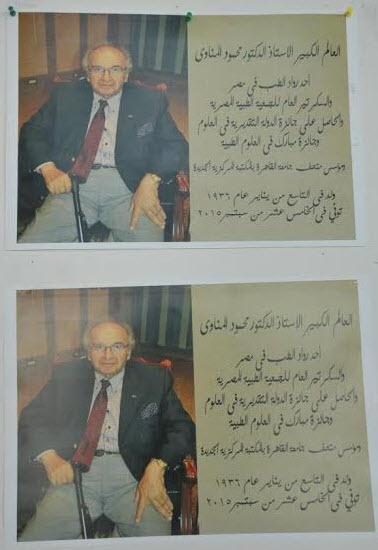 ---