Cairo University
Gaber Nassar Inspects Experimental Operation of Thabit Thabit Hospital for Endemic Diseases, Inaugurates Medical Analyses Laboratory
Date :2017-07-27 13:14:38
Cairo University President Gaber Nassar inaugurate mechanized medical analyses laboratory at Thabit Thabit Hospital for Endemic Diseases and Epidemics, affiliated to Cairo University at Al-Haram. It is the first hospital of its kind in Cairo University as it has the finest technology in viruses and epidemics analyses. It is the hugest hospital in Egypt costed nearly EGP 40, 000, 000. Nassar inspect work progress at the hospital and receiving patients at outpatient clinics during experimental operation stage. Some preparations and requirements of carrying out the first stage of the whole hospital are finished. The first stage includes the public location and three floors including 120 beds, outpatient clinics, intensive care department, X-ray chambers, binoculars and sonars, analyses laboratories and blood bank.

Nassar is accompanied during the inauguration of the new laboratory and his tour at the hospital by Cairo University Vice-President for Postgraduate Studies Amr Adly, Faculty of Medicine Kasr Al Ainy Dean Fathy Khodeir, Professor of Viral Hepatitis at Cairo University and the hospital supervisor Gamal Essmat, Thabit Thabit Deputy Director Mohamed Shehata, some professors of Faculty of Medicine Kasr Al Ainy, assistant deputies and physicians.

Nassar held a meeting with the hospital administration in which he urged completing all preparations requirements of the first stage to start integrated therapeutic services for citizens before the next stage begins. Thabit Thabit Hospital for Endemic Diseases and Epidemics at Cairo University is going to be the first research and therapeutic institute in Egypt and Middle East. The hospital presents high health service in fighting, diagnosing and treating endemic diseases.

Professor of Viral Hepatitis at Cairo University and Thabit Thabit Hospital Supervisor Gamal Essmat said that ،،The total capacity of Thabit Thabit Hospital is 350 beds, 4 operation chambers, 10 outpatient clinics and integrated diagnosis and research departments in two stages.,, Essmat added that ،،The hospital is composed of four buildings with 12, 000 meter area for the floor.,, He pointed out that ،،The buildings encompass infectious, cerebral and viral fevers, emergency reception, operations and surgery chambers, outpatient clinics and laboratories.,, Essmat clarified that ،،Cairo University injected the first stage of all medical preparations necessary for full operation with EGP 250, 000, 000.,, Thabit Thabit Administration honors Prof. Dr. Gaber Nassar as an appreciation for his support to the hospital establishment.

The hospital establishment idea dates back to nearly 76 years ago by the will of Thabit Thabit Georgy who is an Italian of Syrian origin. Thabit lived in Egypt and bequeathed his wealth for building a hospital for treating endemic diseases on 7300 square meter land at Al-Haram Main Street and submitted it to the state. Cases were resolved between government and inheritors by implementing his will and issuing a ministerial decree in 1990 by transferring guardianship on the bequest to Faculty of Medicine. The project started in 1997 then building work was suspended then returned in 2002 and suspended again. Suspension occurred twice because of shortage in financial approvals until the project was restored in November 2013.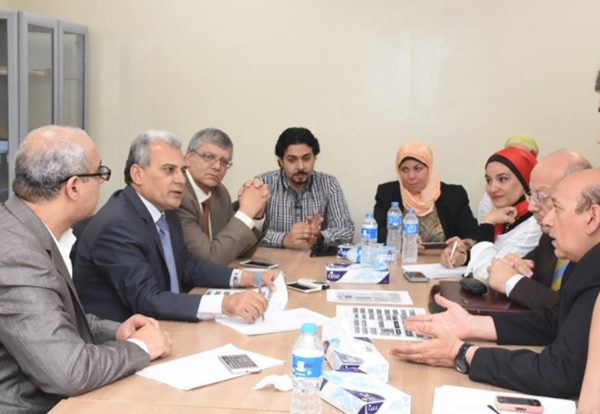 ---