Cairo University
Elkhosht during Cairo University Seminar: Egyptian Youth Believe in Civilization, History, Glory of their Homeland Not Discouraged by Terrorism
Date :2017-12-17 12:51:49
A seminar is held for Egyptologist Zahi Hawass entitled ،Interesting Facts in Pharaonic Life., Cairo University President Mohamed Osman Elkhosht enunciates his pleasure with the quick response of Archaeologist Dr. Zahi Hawass to Cairo University invitation for delivering a lecture among its sons and professors on interesting facts in ancient Egyptian Life. Prof. Dr. Mohamed Elkhosht pointed out that Egyptian youth believe in civilization, history, and glory of their homeland. Elkhosht said that Egypt is the first country to know civilization. It is the first one to know the meaning of state, values and principles. Egypt is the origin of religions, and it is the first country where Monotheism emerges. He pointed out that ancient Egyptian is the one who realizes that life is divided into two parts; the present life and the afterlife. Egyptian monuments, therefore, are half on Earth and half in Earth. Half related to present life and the other half related to afterlife. Elkhosht illustrated that Egypt is the origin of mathematics and engineering represented in temples and pyramids. It is the origin of medicine. No one knows the secrets of ancient Egyptian medicine. Egypt is also the origin of philosophy, thought, art, and ethical rules.
Cairo University President said that belonging to Egypt, this history, and that glorified civilization is honor for him and attendees. He emphasized that Egypt will not be affected by any terrorist attacks, extremism, or international conspiracies. Elkhosht pointed out that Zahi Hawass is the best archaeologist all over the world who presents Egyptian civilization and its monuments. He acclaims Faculty of Archaeology deans, professors, scientists, administration, and their big role in maintaining ancient Egyptian monuments.
Dr. Zahi Hawass said during his lecture at Cairo University: ،I greet Egyptian Army because it is the keeper of Egypt all over ages., He added that enemy always comes through Sinai to invade Egypt and history is the best evidence on this. He illustrated that Egyptian people does not believe in differences and does not accept those who disagree with it. He pointed out that the terrorist attack on Rawda Mosque will not discourage Egyptians from insistence on combating terrorism.
Hawass pointed out that there is no red mercury. It is illusion and a lie for fraud. He said that Ain Shams and Akhmim are two cities that are floating on a sea of monuments. He said that the third of Egypt monuments were smuggled in the insecurity period that followed January 25 Revolution. He illustrated that 54 pieces were stolen from Egyptian Museum in January 25 Revolution. Most of these antiquities were restored. There are still nearly 70% of Egyptian archaeology in the subterranean depth. We cannot know which monuments are hidden in sands. Cairo University President Mohamed Osman Elkhosht presents the Archaeologist Zahi Hawass Cairo University Shield.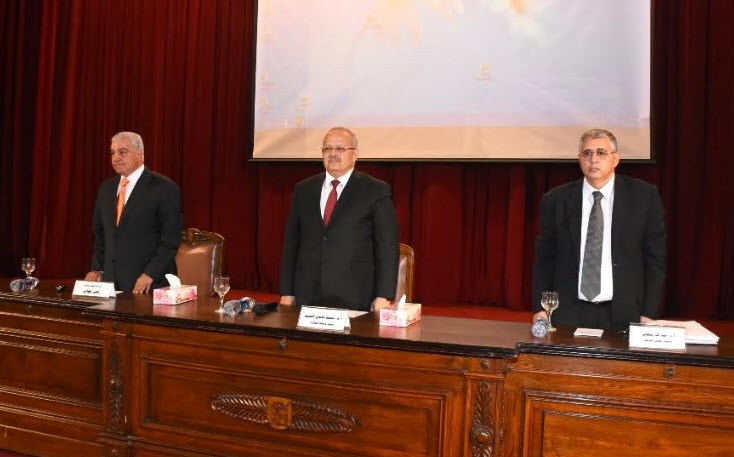 ---