Cairo University
Cairo University Organizes Seminar on Giza Governorate Population Census Indicators for 2017
Date :2018-01-02 20:45:46
Cairo University organizes a seminar entitled ،Population Census in Egypt … Cairo University Reads Giza Governorate Indicators, on December 24, 2017. The seminar is sponsored by the Minister of Higher Education and Scientific Research Khaled Abdelghaffar and Cairo University President Mohamed Osman Elkhosht. The activities start at Cairo University Conference Center at Hostel, 10 a.m.
Central Agency for Public Mobilization And Statistics (CAPMAS) President Abou-bakr Elguindy, Institute of Statistical Studies and Research Cairo University (ISSR – CU) Dean Elsayed Khater, Professor of Population Census at ISSR – CU Hisham Makhlouf, elite of experts, and specialists participate in the seminar.
Cairo University President Mohamed Osman Elkhosht has earlier given orders to Cairo University Community Service and Environmental Development Sector, supervised by Vice-President for Community Service and Environmental Development Saeed Daw, to hold seminars and meetings between experts and specialized professors. Seminars and meetings are intended to read population census indicators and analyze them applying to Giza Governorate; the geographic scope where Cairo University is located. This sheds light on the social role of Cairo University within the framework of political leadership orders for results and population census data analysis being conducted by research authorities, universities, and mass media. These results are used in helping decision makers to conduct realistic analysis in the different fields of life.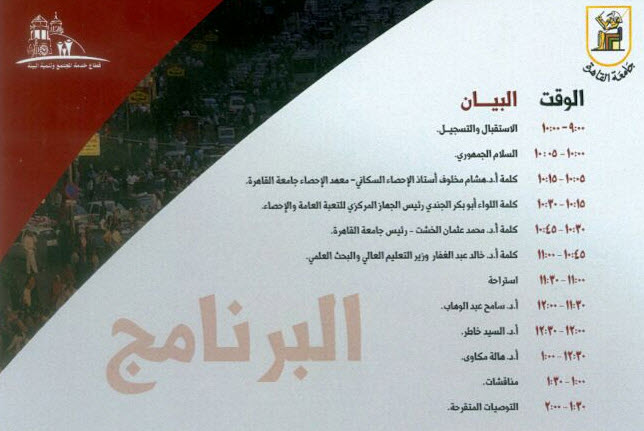 ---