Cairo University
Cairo University Inaugurates Census Indicators Reading for Giza Governorate
Date :2018-01-02 20:51:54
Elkhosht: ،Transformation from Rural to Urban Area being Biggest Problem of Giza Governorate,


Kamal Eldally: ،Diversity and Change in Classes and Levels being Characteristics of Giza,


Abou-bakr Elguindy: ،Egypt being Most Important State Conducting Census before many European States,
A seminar organized by Cairo University is entitled ،Population Census in Egypt … Cairo University Reads Giza Governorate Indicators., It is attended by Central Agency for Public Mobilization And Statistics (CAPMAS) President Abou-bakr Elguindy, Institute of Statistical Studies and Research Cairo University (ISSR – CU) Dean Elsayed Khater, Giza Governor Kamal Eldally, Professor of Population Census at ISSR – CU Hisham Makhlouf, elite of experts, and specialists.
Cairo University President Mohamed Osman Elkhosht said that Cairo University is the first Egyptian University to give regard to population census indicators and organize seminars to census indicators concerning sustainable development. He referred to the importance of raising the Egyptian awareness of census vitality in this period. He illustrated the cruciality of monitoring and recording the characteristics and nature of population and facilities saying ،the ability to develop ourselves is linked to self-knowledge.,
Elkhosht added that the census importance came from philosophy as Socrates said in the fifth century ،know yourself, whether an individual, a group, or a state. He pointed out that peoples progress is linked to knowing self-abilities, strengths and weaknesses.
Cairo University President pointed out that despite Giza Governorate is the second largest governorate in population; it is one of the most difficult Egyptian Governorates for it intersects with 10 non-homogenous governorates. He added that one of its biggest problems is being transformed from rural into urban area which resulted in economic and social problems.
Elkhosht proceeded that Cairo University is sought to transform into a smart electronic university with one system. Cairo University staff works on addressing the gap between scientific studies and reality. The university is sought to serve state and society through research and studies conducted by research cadres.
General Abou-Bakr Elguindy the President of Central Agency for Public Mobilization And Statistics (CAPMAS) said that the general census project is conducted by the agency every 10 years. He pointed out that Egypt is the most important state that conducted census before many European states. He added that population census is our simplest work, but we miss knowledge of population characteristics. He referred to the vitality of census for coping with world countries in providing population data.
Elguindy said that the population census issue is more dangerous than terrorism issue. He pointed out that one of its harms is the rate of rapid growth that takes place without taking into consideration the balance between population and resources. He added that, by the end of January, we will have a larger quantity of administrative information regarding census.
Giza Governor Kamal Eldally pointed out that population characteristics are not confined to counting. He said ،we have many work as Giza Governorate needs groups of fieldwork to follow up work implementation., We notice that some villages, centers, and neighbourhoods have population diversity as, for example, the 6th of October City that encompasses slum areas and upscale areas. The governorate is characterized by diversity and change in social classes and levels which resulted in many problems needing drastic solution.
He added that the governorate anticipates the results of the studies conducted by Cairo University to benefit with in a real empirical way.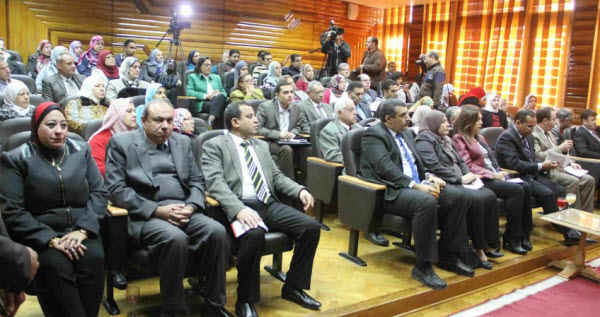 ---