Cairo University
Elkhosht at Seminar Entitled Role of Youth in Building Society: ،Egypt Heads Speedily at Development,
Date :2018-04-02 10:11:03
Cairo University organizes a seminar in the framework of Cairo University cultural season entitled ،The role of Youth in Building Society, at Grand Celebration Hall at Cairo University on Sunday March 11, 2018. The Minister of Islamic Endowments Mohamed Mokhtar Gomaa, Journalist writers Abdelrazeq Tawfik Editor-in-chief of Gomhouria Newspaper and Akram Elkasas Editor-in-chief of Alyoum7, professors, and students are hosted at Cairo University.
Cairo University President Mohamed Othman Elkhosht said that Egypt today heads speedily at development. It leads a war for achieving development and another war against terrorism and the exterior plots planning for Egypt the same destiny of Syria, Iraq, and Libya. Elkhosht points out that every individual in Egypt should develop him/herself before uplifting Egypt.
Elkhosht addresses attendees saying ،Be the change you wish Egypt could achieve. The state will progress when everyone succeed in his/her discipline.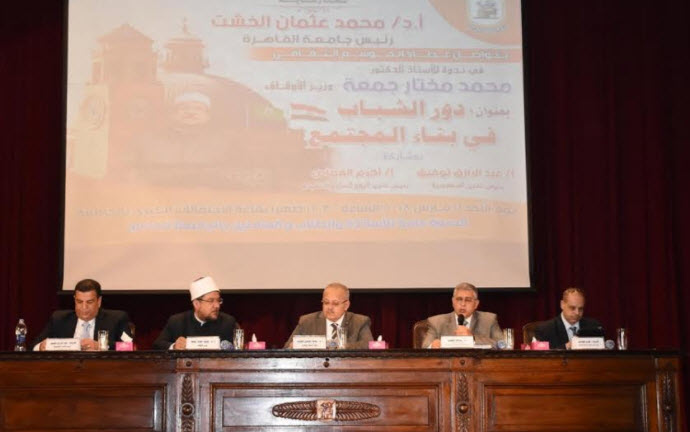 ---