Cairo University
First International Festival Activities for Cairo University Theater Launched
Date :2018-10-11 21:46:40
International Festival for University Theater is convened on Monday, October1, 2018, in cooperation between Ministry of Culture, Ministry of Youth, Cairo University and Egyptian Artist Association under the auspices of Egyptian President Abdel-Fattah Elsisi. The inauguration is held at 7 p.m. at Grand Celebration Hall at Cairo University.
The coordination is conducted between Minister of Culture Enas Abdel-Dayem and Member of Culture and Enlightenment Council at Cairo University, Minister of Youth Ashraf Sobhy, and Cairo University President Mohamed Othman Elkhosht for festival coordination.
Cairo University earlier made an invitation in November from last year to hold a festival and took measures to develop a number of University Theater to receive Cairo University Festival for International Theater. The festival will be held at Cairo University stage in participation with a number of Egyptian, Arab, and global universities.
Cairo University President Mohamed Othman Elkhosht pointed out that Cairo University appreciates the important role for theater in general and pay more attention at University Theater. She said that shows presented at Cairo University stages through Cairo University International Festival for Theater will be in the framework of university traditions. The shows are significant creative ones that are attracting students aware of the importance of university theater importance and mission.
Elkhosht said that high arts should confront extremist thoughts that may occupy youth minds.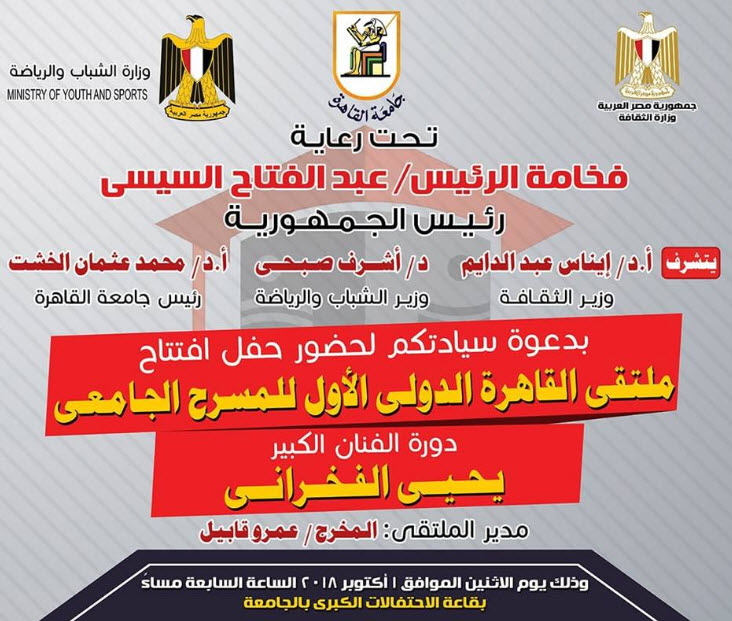 ---