Cairo University
Abu-Steit Meets Students of University Hostel, affirming the University's keenness on Enhancing the Services Presented to Students
Date :2013-04-11 00:16:12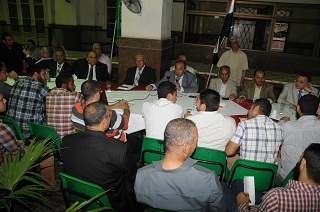 During his visit to the university hostel, through which he inspected the conditions of university buildings, restaurants, and dining rooms, Prof. Dr.\ Ezz-el-Din Abu-Steit, Vice President of Cairo University for Education and Student Affairs, has met the students of university hostel and discussed their demands.
Dr.\ Abu-Steit affirmed to the students that the university is keen on enhancing the services presented to them in hostels, especially the services related to meals quality and ways of its presentation to students.
He also stated that the university, during the current period, is working on providing extra resources, increasing the efficiency of hostels for students, and developing external houses and hostels at Al-Sheikh Zayed, Sixth of October City. He confirmed that the university abides by its promise of providing convenient environment for students' subsistence and services enhancement.
---