Cairo University
First Term Exams Results as Scheduled and Effective Procedures to deal with any Acts of Riots
Date :2014-02-10 23:05:06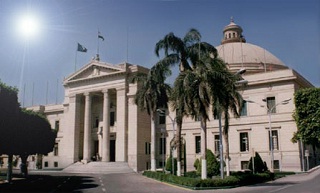 Dr.\ Gaber Nassar, President of Cairo University, has confirmed that the results of first term exams will be announced as scheduled, pointing out that the university's administration coordinates with faculties to follow-up exams tasks, control and announcing results at faculties immediately after finishing exams correction and monitoring.
Cairo University president stated that the second term will witness clear and effective procedures for dealing with acts of riots or violence that threaten stability of the educational process. He pointed out that surveillance cameras which have been destroyed at the university campus during the events witnessed by the university before first term has been fixed and other surveillance cameras are being installed outside the university campus in faculties like Medicine, Faculty of Veterinary Medicine and Faculty of Agriculture. Administrative security will also be provided with a set of girls graduated from Faculty of Physical Education for inspecting ladies' handbags and students when they enter the university.
He said that it was agreed with Ministry of Interior to secure the campus from the outside with preparing for rapid intervention in case of any acts of riots or violence inside the campus or faculties to protect students, staff members, employees and university facilities. Police will be responsible for securing the university from outside and will be ready for rapid intervention; there is also a plan to train members of civil security and providing them with means to defend themselves.
Nassar has confirmed that the university is keen on enhancing the educational process, providing social care for students and pursuing the plan of developing the university during the coming period.
---