Cairo University
Cairo University Honors Professors of Al-Kasr Al-Ainy in Charge of the Medical Convoy in Rwanda
Date :2014-02-25 21:46:54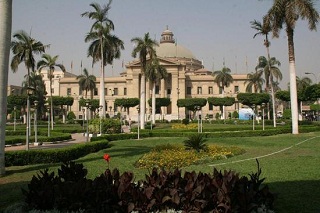 On Sunday, Prof. Dr.\ Gamal Essmat, Vice President of Cairo University for Post-Graduate Studies and Research, has honored the medical team which is in charge of the medical convoy which continued for a week during the period from 9-14/2/2014 at the academic hospital in Kigali at Rwanda.
The convoy performed, during this period, 45 operations in 4 days in different disciplines, and debated more than 200 patients at the external clinic funded from Cairo University, Arab Doctors Union, Seif Pharmacies.
The convoy is composed of a medical team that includes 7 professors of Al-Kasr Al-Ainy in different disciplines. They are Prof. Dr.\ Mohamed Youssef, Professor of General Surgery and Head of the team, Prof. Dr.\ Gamal Al-Tagy, Professor of pediatric surgery, Prof. Dr.\ Khaled Morsy, Professor of Urology, Prof. Dr.\ Ismail Rady Saad, Professor of Urology, Prof. Dr.\ Sameh Al-Anany, Professor Assistant of Maxillofacial Surgery, Prof. Dr.\ Abdul-Maksoud Ali, Professor Assistant of Oncology and Dr.\ Ehab Bakry, Teacher of Anesthesia.
---