Cairo University
Cairo University's President Visits Faculties and Meets Students in Lectures Halls
Date :2014-03-14 00:56:16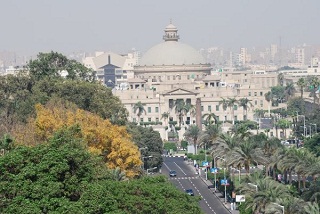 Faculties of Cairo University have witnessed regularity in study and the course of the educational process and an intensive attendance of students to follow-up second term lectures starting by 8/3/2014 according to the schedules announced at the faculties. The faculties have also witnessed a regular presence of staff members in their lectures. Meanwhile, administrative security has stepped up its presence at the main gates of the university campus and the faculties to prevent the entry of desperado elements.

Dr.\ Gaber Nassar visits faculties to follow-up the course of the educational process and regularity of lectures from the first day of the second term. He has visited Faculty of Arts, Faculty of Law, Faculty of Mass Communication and Faculty of Economics and Political Science. During his visits to faculties, he met students in lectures halls where they were engaged in short dialogue with him through which he confirmed the university's efforts in enhancing the educational process and developing it in faculties and being keen on providing educational and training services that befits the status of Cairo University and its global reputation.

Dr.\ Nassar has pointed out, during his meetings with students, that the university does its utmost in this field as well as providing social services and encouraging students' creativity, excellence and innovation through the activities boosted by the university. Dr.\ Gaber Nassar has said that Cairo University forms civilized, cultural and scientific values in the Egyptian awareness. He also said that Cairo University's graduates are always in the forefront and the starting point in establishment and development. He has also explained to students that freedom of speech, which is guaranteed to students, should be associated with respect and academic values which the academic society is entrusted with.
---