Cairo University
Team of Faculty of Engineering is Honored for winning the Eights Place of Shell Eco-Marathon
Date :2014-03-17 23:14:24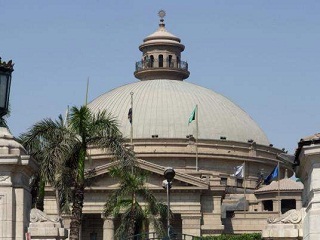 Sponsored by Dr.\ Gaber Nassar, President of Cairo University, and Dr.\ Sherif Murad, Dean of Faculty of Engineering, Faculty of Engineering, Cairo University, holds a press conference at the new Guest House at the university on March 20, 2014, 6:00 p.m. for celebrating the faculty team that participated in the environmental Shell Eco-Marathon. It has been held at Philippine on February 2014 through which the team won the eighth place of the competition from among 44 teams allover Asia and the Middle East.

President of the university will honor the students of the winning team through the conference. They are Karim Hamza, Hany Al-Anany, Islam Taiseer, Mohamed Al-Souody, Islam Al-Tabbakh,Mohamed Hisham, Ali Mohamed, Hussam Tawfik, Ahmed Karam, Youssef Ibrahim and Ismail Al-Nahhas. He will also honor the supervisors of the project. They are Dr.\ Osama Al-Bahhar, Dr.\ Omar Hazin, Mechanical Power Engineering Department, Dr.\ Badr Azzm, Dr.\ Mahmoud Abd-Rabu, Mechanical Design and Production Department, and Dr.\ Ahmed Abul-Souod, Electronics and Communications Engineering Department.

The sponsors of the team will also be honored. They are Misr El Kheir Foundation, CMB group, Scientific Research and Technology Academy, and Shell Company. Noteworthy, the competition relied on the students from all over the world to design and build energy-saving cars and super-efficient so that the winning team is the one whose car travels the greatest distance using the least amount of fuel.

The team invented a car which can go a distance of 122 kilometers using only one liter of gasoline. The car is made of carbon fiber of high strength and light weight.
---