Cairo University
Cairo University Deans Council Discusses the Arrangements of Starting the New Academic Year
Date :2012-09-06 20:46:23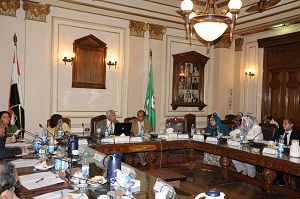 On the meeting, held on 2/9/2012 and headed by Prof. Dr.\ Hossam Kamel, Cairo University's President, Cairo University Deans Council has looked into preparations and arrangements of the new academic year 2012/2013, and starting study on Saturday, 15th of September, 2012. These preparations include finishing and equipping Cairo University facilities, lecture halls, workshops, libraries, announcing study schedules, their places and timing. Besides, preparations include distributing students among study sections, preparing different student activities programs, skills development programs, social care, providing students with affordable university book through taking advantage of ad hoc support of university book as well as allowing enrolled students to dwell in hostels in the first week of study, finishing the results of transferring students from a faculty to another before the end of current week to enable students to obtain their study cards, and to enable them to be regular in the educational process.



Prof. Dr.\ Hossam Kamel called faculties' deans to prepare programs for their faculties to receive students especially newly admitted students in first week of study and to get them acquainted with study system and university facilities. He also emphasized the necessity of announcing student activities at faculties and at the university level, taking advantage of ad hoc support of university book, providing students with affordable university book, encouraging co-authoring among professors. He also pointed out that boosting university book project, funded by the university, being started before two years ago in both Faculty of Commerce and Faculty of Arts, through which copyright is purchased from professors, and is afforded to students 5 EGP flat rate, is intended to be conducted at some departments of Faculty of Arts, and some curricula of Faculty of Law, Faculty of Dar El-Ulum, and Faculty of Specific Education. Prof. Dr.\ Hossam Kamel has emphasized Cairo University's willingness to boost this project in other faculties.



Cairo University Deans Council has discussed checks issued by Supreme Council of Universities concerning paying the university's allowance, recently decreed by the state in context of enhancing their financial conditions, to staff members and their assistants. It has also discussed implementing the law issued with 20 % devolution of surplus of Ministry of Finance's funds and carrying it out, putting performance of the university's units and centers with special nature into account, as well as restructuring some private units that does not make profits.


Cairo University Deans Council has outlined the numbers of students who will be enrolled in the university in 2012/2013 academic year. It is anticipated that numbers of students will reach 38, 000 after finishing the third stage of coordination and transfers, admitting equivalent certificates as well as expatriate students, numbering 180, 000 students received by Cairo University in the new academic year from all academic years.



Cairo University's President has shown deans of faculties the axes of an expanded conference about Open Education, entitled "Twenty Years of Open Education, Rights and Duties" through which the experiment will be discussed at all its sides and fully and genuinely evaluated. It is sponsored by Higher Education Ministry, and the university intends to hold it next month and invite all professional syndicates to participate in discussions.
---