Cairo University
Cairo University Council Follows up Study Conditions and Makes sure that the Educational Process is on the Right Track
Date :2012-10-01 22:48:16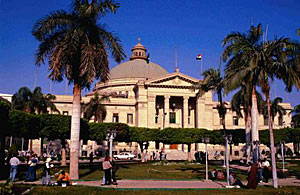 Cairo University Council has discussed in a meeting, headed by Prof. Dr. Hossam Kamel on 26/9/2012, study conditions to make sure that the educational process of faculties is on the right track after two weeks since study has begun and faculties have finished procedures of student enrollment in study sections. The council has stated the necessity of carrying out the decisions issued by Deans Council in its meeting before two weeks. The meeting of Deans Council has discussed activating student activities, expanding programs of student abilities development to integrate with the educational process, taking advantage of ad hoc support of university book, providing students with affordable university book, finishing the results of transferring students from a faculty to another to enable students to obtain their study cards, and be regular in the educational process.

The Council has approved establishing a laboratory to follow up handling radioactive materials and prosthetic devices that emit rays to ensure the safety of employees who deal with the devices, centers, and units subordinated to Cairo University.

The Council has approved some appointments, promotions, and granting scientific titles to a group of staff members of different faculties at Cairo University.


---