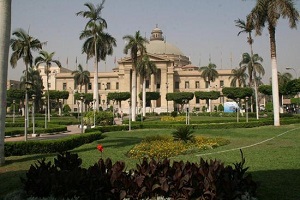 Time : 09:00:00
Location : Cairo University
Organizer : Cairo University
About Event : Opens d. Mr. Abdul Khaliq, Minister of Higher Education First International Conference on "Egypt and the Mediterranean countries through the ages" and held by the Faculty of Archaeology at Cairo University, under the auspices of Dr. Jaber Nassar university president, Gamal Hamza, Acting Dean of the College, in the period from October 15 to 18 being the main building of the Faculty at ten in the morning.
Participants in the conference who are 8 countries (Tunisia - Morocco - Syria - Algeria - France - Romania - Hungary - Switzerland), this is in addition to the participation of most Egyptian universities, and the number of research presented at the conference in search of 90.
The conference addresses three axes, where he discusses the first axis effects through the ages in Egypt and the Mediterranean countries in terms of the (effects and the environment - history and civilization - architecture, art, photography and materials technology - ancient languages ​​- effects of cultural exchanges between the Mediterranean countries and the outside world - the papyri and inscriptions and coins), It also focuses on the first axis as well as the effects in the Greco-Roman, Byzantine, medieval and Islamic countries, the modern era.
The second axis will address several important points, notably: documentation processes for materials and archaeological sites, methods of testing and analysis of materials, organic and inorganic and hybrid materials and methods of restoration and preservation, environmental influences on the materials and archaeological sites, architectural restoration of buildings and archaeological heritage, and preventive maintenance in museums and archaeological sites.
The third axis discuss a number of topics that relate to the special role of basic science in the service of the effects, the use of modern technology in the field of archeology and conservation, and science in ancient Egypt and the Mediterranean countries.




Latest Events
Poll : The best university in Egypt for the preparation of the new academic year
Cairo University Launches Best Academic Staff and Assistants' Websites Competition
Get your website at Cairo Univeristy portal
Back