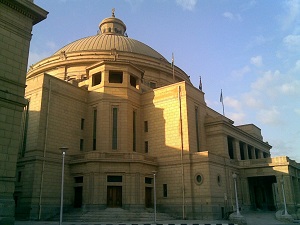 Time : 09:00:00
Location : Cairo University
Organizer : Cairo University
About Event : Cairo University, organized under the auspices of d. Jaber Al-Nassar, president of the university, and the supervision of D.az religion Abusti Vice President for Education and Student Affairs, the competition for individual talents, especially plastic arts colleges, and that in the period from 19 to 30 November public administration building for the care of young people at the university.
Said Seatity General Manager, explained the youth care at Cairo University, the competition aims to encourage students to practice the Fine Arts in various fields (oil painting - sculpture and decoration - Photography - Graphic - drawing, and other areas), highlighting the outstanding technical and hone their talent, inspire the spirit competition among students.
For his part, stressed Seatity he will also be organizing a competition for individual talents in music and choral fields and that in the period from 22 to 27 November, and other competition for the small theater festival theaters university where all of the Faculty of Commerce and the Faculty of Law is involved and that in the period from 1 to 21 Dec. building public administration to take care of the young university.




Latest Events
Poll : The best university in Egypt for the preparation of the new academic year
Cairo University Launches Best Academic Staff and Assistants' Websites Competition
Get your website at Cairo Univeristy portal
Back