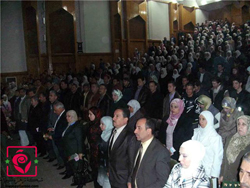 Time : 13:30:40
Location : University
Organizer : University
About Event : On March 21, Grand Celebration Hall – Cairo University witnesses cultural festival, sponsored by Dr.\ Hussam Kamel, President of Cairo University to announce starting to launch international youth year. The festival is organized by Community Service Sector and Environment Development of the university in cooperation with the United Nations, Ministry of Family and Population, the National Council for Youth, Ministers Council Information Center and El Sawy Culturewheel. Dr.\ Haba Nassar, Vice President of Cairo University for Community Affairs and Environment Development, declared this pointing out that the activities of the festival starts at 10 a.m.
Dr.\ Hussam Kamel, President of Cairo University and Mr.\ James Raouly, the coordinator who evaluates the United Nations, announce the start of launching international youth year. The inauguration is followed by three sessions. In the first session, Dr.\ Sahar Al-tawila, Manager of the Social Center, presents a show of electronic website for youth. In the second session, Dr.\ Heba Handoussa, Researcher of Human Development report in Egypt, sheds light the report about the youth. The third session includes general discussions with the youth's participation about human development report. The activities of the festival is concluded with artistic party.





Latest Events
Poll : The best university in Egypt for the preparation of the new academic year
Cairo University Launches Best Academic Staff and Assistants' Websites Competition
Get your website at Cairo Univeristy portal
Back