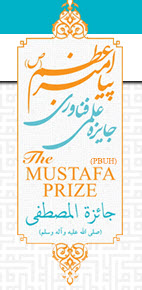 The first round of Mustafa Prize shall be held on the 4th-9th January 2015 in Tehran in (Nano-science and Nanotechnology, Life Science and Medicine, Information Science and Communication Technology, and a Top Project by a Muslim scientist) shall receive a cash amount of 500,000 USD (a total amount of two million dollars), the Mustafa Medal and a Certificate of Appreciation.



It is hoped that this Prize shall revive the historical and scientific glory of Muslims once again. Therefore, the call-for-the-Prize shall be officially announced in a Press Conference by the Secretary of the Prize on March 10th, 2014.



After due consideration and with regard to scientific credibility and acceptability of that institute amongst technologists and scientists, it is proudly announced that this institute has been selected as one of nominating institutes with the approval of the second meeting of the Policymaking Council of the Prize.
Latest Research Project
Back