Cairo University
Guest Services -> Shopping @ CU -> Al-Azbakeya Wall Exhibition at Cairo University
Al-Azbakeya Wall Exhibition at Cairo University
Dr. Heba Nassar, Vice President of Cairo University for Community Service and Environmental Development, inaugurated the first Azbakeya Wall Festival at Cairo University.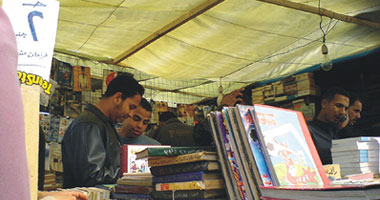 Dr. Sherif Shahin, Librarian of the Central Library, said that the idea of the exhibition is based on donations of professors and libraries of different faculties, the idea met a great success. Some cultural centers outside the university donated, such as; the Supreme Council for Culture, Diwan, Madbouly, Dar-el-Ein for publishing, and Nahdet Misr libraries. The number of donated books reached 8171 copies.
Al-Azbakeya Wall at the university includes part for the blind, which, contains important books converted to mp3 audio that help the blind, such as; Animal by El-Gahez, The Style of Jurisprudence by El-Shafei, and The Encyclopedia of Jews and Judaism by Abdul Wahab El-Noseiry.

Besides, a place allocated to some artists from Plastic art Sector, and amateurs of painting from youth of the university, as well as different competitions throughout days of the exhibition. It hosts a number of intellectuals and thinkers, such as; El-Sayed Yassin and Mohamed Salmawy.


Back
---