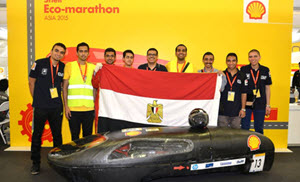 A team from Faculty of Engineering – Cairo University has won the fourth place, as they represented Egypt in "Shell Eco-Marathon" 2015 which was held at the Philippine capital Manila from February 26 to the first of March 2015. It is a global competition organized by Shell Corporation between student teams in major universities at the global level for designing and manufacturing energy-saving (eco-friendly) cars. The team has got Communications Award; an award allocated to the teams that are highly aware of the ideas and objectives of the competition, boiling down to encouraging the rationalization of energy consumption and preserving the environment as well. Prof. Dr.\ Sherif Murad, Dean of Faculty of Engineering – Cairo University, has illustrated that the faculty has participated with two gasoline-saving cars in two car prototypes; Horus car and Anubis car in the Urban concept Gasoline. Anubis team car has won the fourth place in Urban concept Gasoline from among 15 participant cars in the same category, as the car has covered 57 KM consuming only one liter of gasoline. The results are measured by who is able to drive to the farthest distance ever consuming the equivalent of 1 Kilo Watt of electricity per hour or 1 liter of fuel.
The faculty team is composed of a group of students from the departments of Mechanical Power Engineering, Mechanical Design and Production, Aeronautical and Aerospace Engineering, and Electronics and Communications Engineering. They are Islam Tayseer, Ahmed Karam, Mohamed Abdul-Hady, Hamed Gamal, Ahmed Ali, Ahmed Hussein, Baher Ash-Shimy, Asmaa Ismail, Ahmed Al-Sayed, Youssef Labib, Amr Essam, Abdul-Karim Al-Leithy, Ahmed Helmy, Samah Ibrahim, and Eng.\ Islam El-Tabakh, as well as another number of the team members who could not travel. The team has worked under the supervision of Dr.\ Ossama Al-Bahar and Dr.\ Omar Hazin, Mechanical Power Engineering Department, and Dr.\ Mahmoud Abd-Rabbu, Mechanical Design and Production Department.
Latest News
The President of Cairo University thanks Cambridge for the courage shown in its return to fairer assessment methods, which restored the world's confidence in it.
Cairo University Celebrates Forty Fifth Anniversary of October Victory
Cairo University President Meets Vice-President of Renmin University of China to Discuss Means of Cooperation of Belt and Road Initiative with Ain Shams University President Attending
Open Dialog by Minister of Islamic Endowments and Cairo University President with Students about Deconstructing Extremist Ideologies
Cairo University Organizes International Forum for Cultural Heritage entitled Popular Literature and Interdisciplinary Studies in Participation with Researchers from 9 States
Back