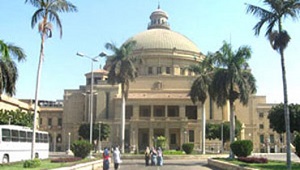 On Thursday, April 9, Prof. Dr.\ Gaber Nassar, President of Cairo University, has made a surprise visit to the restaurant of Student Hostel, Cairo University. He was present among the students who were taking their lunch meal and asked them about the quality and quantity of the meals they take. "Today the food is good because they know you are coming", a student said. "No one of the hostel administration knows about my visit to the hostel today. They just saw me the moment I entered the restaurant. I was near from you as I attended the Faculty of Engineering's student activity at the playgrounds and the Dean and Vice Dean of Faculty of Engineering came with me", replied Prof. Dr.\ Nassar. "The cheese of the supper is not good", said another student. "This cheese is produced by Faculty of Agriculture and is made from natural milk, it is free from additives. In addition, the supper meal also contains eggs, jam and yoghurt. I myself buy this cheese from Faculty of Agriculture because it is free from additives", Nassar answered.
President of Cairo University has confirmed to students that the university administration is keen on enhancing the condition of university hostel concerning stay, sustainability, kitchen equipments, meals and means of presenting them to students. He referred to the high cost which is never paid by students except for only 10% of its real value.
Nassar has inspected the kitchen of the hostel before he took lunch with students in the presence of Dr.\ Sherif Murad, Dean of Faculty of Engineering, Dr.\ Hanafy El-Zoheiry, Vice Dean of the Faculty, and Magda Moselhy, General Manager of University Hostels.
Latest News
The President of Cairo University thanks Cambridge for the courage shown in its return to fairer assessment methods, which restored the world's confidence in it.
Cairo University Celebrates Forty Fifth Anniversary of October Victory
Cairo University President Meets Vice-President of Renmin University of China to Discuss Means of Cooperation of Belt and Road Initiative with Ain Shams University President Attending
Open Dialog by Minister of Islamic Endowments and Cairo University President with Students about Deconstructing Extremist Ideologies
Cairo University Organizes International Forum for Cultural Heritage entitled Popular Literature and Interdisciplinary Studies in Participation with Researchers from 9 States
Back