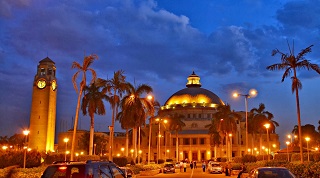 Cairo University has initiated its preparations of the ceremony of offering H.H. Sheikh Dr. Sultan Bin Muhammad Al Qasimi, Ruler of Sharjah, honorary doctorate on May 12, 2015, at Grand Celebration Hall, Cairo University. It is to be attended by a group of senior statesmen in Egypt, Arab ambassadors, scientists, thinkers and Cairo University professors. Ruler of Sharjah will visit Faculty of Engineering and Central Library of Cairo University at the same day. Prof. Dr.\ Gaber Nassar, President of Cairo University, has received a letter from the ambassador of United Arab Emirates in Cairo, stating the date of the ruler's arrival at Cairo University to receive honorary doctorate during his official visit to Egypt. This after Cairo University Council has approved offering Al Qasimi honorary doctorate. Noteworthy, Al Qasimi is a graduate of Faculty of Agriculture, Cairo University.





Cairo University Council has reviewed all the criteria of offering Al Qasimi honorary doctorate, his resume, and prominent contributions to cultural fields at the Arab level and the services he offered to Cairo University. Al Qasimi has donated to complete establishing New Central Library at Cairo University, establishing information center and laboratories building at Faculty of Agriculture, and restoring Faculty of Engineering building which was burned during break up Al Nahda sit-in. Cairo University has honored Al Qasimi in 2008 at its first centennial celebration. He has received many global awards and medals, and was offered honorary doctorates from many universities in Europe. He has also authored a large group of literary books and works. Al Qasimi holds an office of President of American University in Sharjah, and Honorary President of Arab Science and Technology Foundation (ASTF).
Latest News
The President of Cairo University thanks Cambridge for the courage shown in its return to fairer assessment methods, which restored the world's confidence in it.
Cairo University Celebrates Forty Fifth Anniversary of October Victory
Cairo University President Meets Vice-President of Renmin University of China to Discuss Means of Cooperation of Belt and Road Initiative with Ain Shams University President Attending
Open Dialog by Minister of Islamic Endowments and Cairo University President with Students about Deconstructing Extremist Ideologies
Cairo University Organizes International Forum for Cultural Heritage entitled Popular Literature and Interdisciplinary Studies in Participation with Researchers from 9 States
Back