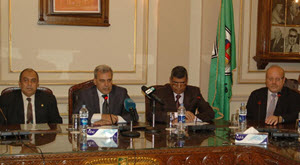 Cairo University has organized a ceremony for honoring researchers in the competition of Mohamed Shawky Al-Fangary charitable waqf for community service researches which is annually organized by Cairo University. This year, the competition, entitled "Practical Perceptions for Facing Illiteracy Problem in Egypt", revolves around illiteracy problem in Egypt.
Prof. Dr.\ Gaber Nassar, President of Cairo University, has distributed awards among the competition winners in the presence of Prof. Dr.\ Gamal Essmat, Vice President of Cairo University for Graduate Studies and Research, Prof. Dr.\ Gamal Abdul-Nasser, Vice President of Cairo University for Community Service and Environment Development, and Consultant Said El-Zahawy, The Representative of Al-Fangary Charitable Waqf. Afaf Mohamed Ibrahim, BA in Arts, Al-Azhar University, has won the first award of 15, 000 EGPs, Dr.\ Sayed Ashour Ahmed, Professor of Faculty of Agriculture, Assuit University, has won 10, 000 EGPs, whereas the third award of 5, 000 EGPs has been won by Islam El-Shistawy, Teacher of Institute of Educational Studies and Research, Cairo University. 17 incentive awards, of 1000 EGPs for each winner, have been distributed among the participant researchers, as well as 10 awards for preparatory and secondary students, with also1000 EGPs value for each award.
Nassar has said, in a speech during the ceremony, that Cairo University is honored with the late consultant Mohamed Shawky Al-Fangary and the charitable waqf he dedicated to Cairo University for the researches that serves society. He pointed out that human being does not die with the end of his life, but he/she lives in the hearts of others through his/her good deeds. Nassar added that the issues cured through this charitable waqf are in the form of scientific, theoretical and applied research serving society. Thus, the researches presented in the competition are science that benefits society. He pointed out that Cairo University will print the winning researches which include ideas and perceptions that boost the plans of illiteracy combating in Egypt.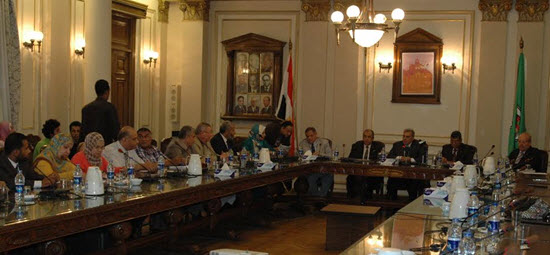 Latest News
The President of Cairo University thanks Cambridge for the courage shown in its return to fairer assessment methods, which restored the world's confidence in it.
Cairo University Celebrates Forty Fifth Anniversary of October Victory
Cairo University President Meets Vice-President of Renmin University of China to Discuss Means of Cooperation of Belt and Road Initiative with Ain Shams University President Attending
Open Dialog by Minister of Islamic Endowments and Cairo University President with Students about Deconstructing Extremist Ideologies
Cairo University Organizes International Forum for Cultural Heritage entitled Popular Literature and Interdisciplinary Studies in Participation with Researchers from 9 States
Back