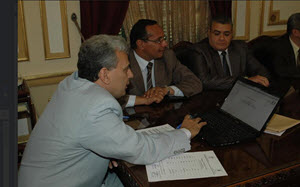 On Thursday, May 21, 2015, Prof. Dr.\ Gaber Nassar, President of Cairo University, announced the result of a subject, entitled "An Introduction to Management in English", for First Year Students, The English Section, Faculty of Commerce, Cairo University. This after the students performed the exam of this subject on the day preceded the results announcement of New Examination System "bubble Answer sheet" which the faculty started to implement. It is an examination model that allows students to select the right answers, facilitating the method of correction via computer, and announcing their results after a few hours. This system is the closest to the American system of student examination.



While he was signing the subject's result and trying random student seat numbers at the faculty website, in the presence of Dean of Faculty of Commerce and Faculty Vice Dean for Education and Student Affairs, Nassar said that the new examination system is fairer and more logical than the former system. He confirmed that the distribution of success ratios of the class illustrates the logicality and fairness of this system, pointing out that 11% of students excelled in this subject, 33% were very good, 40 % were good, and 14% were fair. The total ratio of success in this subject has reached 99%, and the number of failed students is 15 out of 198 students who performed the exam.
Latest News
The President of Cairo University thanks Cambridge for the courage shown in its return to fairer assessment methods, which restored the world's confidence in it.
Cairo University Celebrates Forty Fifth Anniversary of October Victory
Cairo University President Meets Vice-President of Renmin University of China to Discuss Means of Cooperation of Belt and Road Initiative with Ain Shams University President Attending
Open Dialog by Minister of Islamic Endowments and Cairo University President with Students about Deconstructing Extremist Ideologies
Cairo University Organizes International Forum for Cultural Heritage entitled Popular Literature and Interdisciplinary Studies in Participation with Researchers from 9 States
Back