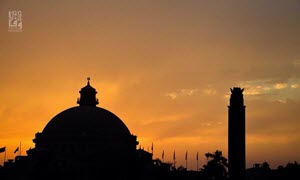 Prof. Dr. Gaber Nassar, President of Cairo University, has announced that an agreement has been signed with European Union for international cooperation program to nominate 13 staff members and students of Cairo University faculties to travel to European universities in educational, scientific and research missions with total fund from European Union of value 155, 800 €s. This is in the context of scientific exchange in educational and research field between Cairo University staff members and students and their counterparts at European Universities. This is conducted through the activities of International Bureau, Cairo University, for boosting scientific cooperation and exchange between Cairo University and European Universities. Noteworthy, scientific cooperation is an essential actionary in European Union Programs.
Nassar has illustrated that the donations includes 7 students of BA and B.Sc. stage of faculties of engineering, agriculture, commerce, arts and urban planning for 10 months, two students of graduate studies stage of PhD. from faculties of arts and agriculture, as well as two post doctorate staff members of faculties of Science and National Institute of Laser Enhanced Sciences for 6 months, and 2 other staff members as visiting professors of European Universities from faculties of medicine and commerce for a month.
Nassar has pointed out that in the context of this scientific exchange, Cairo University has agreed upon hosting PhD. Italian student of Faculty of Arts, Cairo University, two post doctorate staff members of faculties of law and archaeology from abroad, as well as foreign visiting professor of faculty of agriculture.
Nassar has confirmed that through scientific agreements held with European Universities, Cairo University seeks obtaining opportunities of joint scientific training and research between Cairo University youth professors and researchers and their counterparts from abroad, as well as the support offered by the university in facilitating travelling for scientific missions and attending international conferences.
Latest News
The President of Cairo University thanks Cambridge for the courage shown in its return to fairer assessment methods, which restored the world's confidence in it.
Cairo University Celebrates Forty Fifth Anniversary of October Victory
Cairo University President Meets Vice-President of Renmin University of China to Discuss Means of Cooperation of Belt and Road Initiative with Ain Shams University President Attending
Open Dialog by Minister of Islamic Endowments and Cairo University President with Students about Deconstructing Extremist Ideologies
Cairo University Organizes International Forum for Cultural Heritage entitled Popular Literature and Interdisciplinary Studies in Participation with Researchers from 9 States
Back