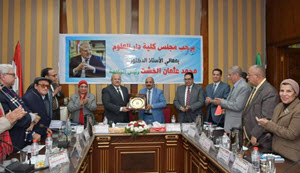 On June 10, 2015, under the slogan of "I have the right to get a job with a good salary so as to secure the life requirements of myself and my family", Information Technology Unit for Those With Visual and Hearing Needs, Faculty of Computers and Information, Cairo University, concluded a training course in developing the skills of disabled women to integrate them in labor market. This is included in the project of "Providing a Suitable Environment for Activating Essential Principles and Work Rights of Women in Egypt", so as to implement the agreement signed between Cairo University, (Studies and Research Center – Faculty of Engineering), and International Labor Organization. The course was free for breadwinner ladies, girls and fresh graduates to enable them to search for jobs. The course included introducing Searching-for-Job Club – self marketing – professional skills – searching in labor market – understanding advertising for job vacancies – reaching unknown labor market – interviews, communication cards, classified ads, resources of other jobs and writing resumes - working rights and responsibilities, the role of information and communication technology in supporting women in searching for jobs and finding the jobs that depend on techniques of information technology and social networks. The training was performed by the expert Ms. Riham Ahmed Mohamed Zaky, Assistant Teacher of Radio and Television, Educational Media Department, Faculty of Specific Education, and Certified by Cairo University as a trainer. She expressed her readiness to hold another workshop that support disabled women to find job opportunities and be integrated in society as she believes in the abilities and skills of disabled women in Egypt.
Prof. Dr. Iman Ali Saroit, Dean of Faculty of Computers and Information, has pointed out that the uses of information technology and communication networks witnessed a great development and became a part of daily life, the matter that lead to accelerating social and economic growth and sustainable development, as well as providing new opportunities of benefitting from those modern techniques which proved its value as a facilitating mean and enabling element for marginalized categories of society, especially disabled women. There are still chief challenges represented in standing up to great gaps of development, enabling all categories including women and disabled women to benefit from the comprehensive breakthrough into information, knowledge, integration in informatics society, and creating soft jobs for women with special needs that depend on communication techniques and social networks. Thus, the role of Faculty of Computers and Information, represented in Information Technology Unit for Those With Visual and Hearing Needs, at the faculty, is to support this kind of the training courses specialized for youth categories like developing skills of women, especially the disabled, through training on how to use communication technology in searching for a suitable job that helps to live a decent life.
Latest News
The President of Cairo University thanks Cambridge for the courage shown in its return to fairer assessment methods, which restored the world's confidence in it.
Cairo University Celebrates Forty Fifth Anniversary of October Victory
Cairo University President Meets Vice-President of Renmin University of China to Discuss Means of Cooperation of Belt and Road Initiative with Ain Shams University President Attending
Open Dialog by Minister of Islamic Endowments and Cairo University President with Students about Deconstructing Extremist Ideologies
Cairo University Organizes International Forum for Cultural Heritage entitled Popular Literature and Interdisciplinary Studies in Participation with Researchers from 9 States
Back