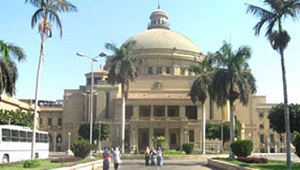 Prof. Dr. Gaber Nassar, President of Cairo University, reviewed the second quarter rent report of the university hospitals, affiliated to Cairo University. The report is prepared by Medical Statistics and Records of Cairo University Hospitals, supervised by Dr. Doaa Saleh, The Director of the Administration, for the period from 1/4/2015 to 30/6/2015. It includes detailed data on the number of hospital beds, work force and the distribution of patients in reception and emergency units, outpatient clinics and interior departments, as well as the indicators of performance efficiency in different departments at each Hospital of Cairo University throughout the reported period. The second quarter rent report has revealed that the beds of Cairo University Hospitals reached 3, 813 beds distributed among El Manial University Hospitals, Cairo University Children Hospital (Japanese), Cairo University Mounira Children Hospital (Abu EL Reesh), Emergency Hospital, Obstetrics and Gynecology Hospital, Kasr al-Aini Internal Medicine Hospital, Kasr El Aini Center of Clinical Oncology, Renal Insufficiency Center, National Center for Clinical and Environmental Toxicology, and Operations Care Unite, at El Manial University Hospital. The report referred to that El Manial Hospitals (Al Bahari & Al Kibli Hospital) accommodate 1368 beds at various departments at rate of 36% out of the total number of beds in Cairo University Hospitals, followed by Cairo University Children Hospital (Japanese), then Emergency Hospital 393, Gynecology Hospital 312, and Internal Medicine Hospital 309 beds.
The report also revealed that the number of examined patients at reception units, at Cairo University Hospitals, during the period from 1/4/2015 until 30/6/2015, reached 109, 605, including 51, 694 patients who visited Reception and Emergency Hospital, at El Manial University Hospital, at rate of 47% of the total reception patients at Cairo University Hospitals, and at average of 568 patients daily.
Latest News
The President of Cairo University thanks Cambridge for the courage shown in its return to fairer assessment methods, which restored the world's confidence in it.
Cairo University Celebrates Forty Fifth Anniversary of October Victory
Cairo University President Meets Vice-President of Renmin University of China to Discuss Means of Cooperation of Belt and Road Initiative with Ain Shams University President Attending
Open Dialog by Minister of Islamic Endowments and Cairo University President with Students about Deconstructing Extremist Ideologies
Cairo University Organizes International Forum for Cultural Heritage entitled Popular Literature and Interdisciplinary Studies in Participation with Researchers from 9 States
Back