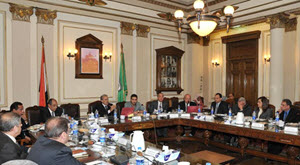 On Wednesday, November 24, 2015, Cairo University Council, headed by Prof. Dr. Gaber Nassar, Cairo University President, congratulate students, staff members and employees at their meeting on inaugurating the new great mosque at the university campus. The council commended the new design of the ladies mosque which the university administration began to build to accommodate 600 ladies at one time. The council expressed their thanks and appreciation to donators, including the university professors and philanthropists from outside the university, for affording the building process.

Cairo University Council condemned the malicious allegations circularized by some individuals on the social media on either demolishing the mosque or preventing the circulation of Mushaf (Quran copy), which are pure fabrication and lies. This is because the university provided 2000 interpreted Mushafs, as well as libraries, presented by the Ministry of Islamic Endowments, including Islamic and heritage books.

Cairo University Council discussed the developments associated with the villa located on 33 El Messaha St. Dokki. The council confirmed that they are waiting for a resolute action by the State, Prime Minister, Ministry of Higher Education and Higher Education Enhancement Fund to handover the villa to Cairo University in application of the decrees issued under the chairmanship of the Prime Minister. Cairo University Council mandated the president of Cairo University to follow-up this issue and concern it before the council.

Cairo University Council unanimously agreed upon regarding the current term 2015/2016 as the last one for the partial mandate of some professors to occupy leadership positions (dean – vice dean – department chair) at governmental and private faculties and institutes. The mandate have to be full, and the authority to which they are mandated should afford all the dues in accordance with law.

The council also approved forming three basic committees for the ethics of animal experimentation in education and scientific research. These committees are basic science, medical science, veterinary and agricultural science sectors.

Part of the meeting of the university council was witnessed by the student Abdullah Anwar, the Head of the University Student Union, after he was invited by Prof. Dr. Gaber Nassar, Cairo University President. The university council welcomed the new student union, and confirmed the importance of cooperation and communication between the university, its faculties and student union. Prof. Dr. Gaber Nassar said that there is a need for understanding, interaction and agreement on frameworks of communication with the student union for the interest of the educational system and student activity. Nassar confirmed that the union is the reflection of the university students, and that he is boosting the student union so that they can play to the full the role assigned to them.
Latest News
The President of Cairo University thanks Cambridge for the courage shown in its return to fairer assessment methods, which restored the world's confidence in it.
Cairo University Celebrates Forty Fifth Anniversary of October Victory
Cairo University President Meets Vice-President of Renmin University of China to Discuss Means of Cooperation of Belt and Road Initiative with Ain Shams University President Attending
Open Dialog by Minister of Islamic Endowments and Cairo University President with Students about Deconstructing Extremist Ideologies
Cairo University Organizes International Forum for Cultural Heritage entitled Popular Literature and Interdisciplinary Studies in Participation with Researchers from 9 States
Back