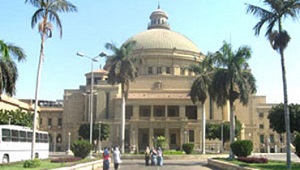 Cairo University faculties finished their preparations for first term exams for the academic year 2015 – 2016. The preparations included announcing exam schedules to students at faculties or on the website of each faculty, preparing examination halls and control, and providing monitors. Every faculty has fixed exam schedules according to its study nature, provided that all faculty exams are finished by January 28 and mid-year vacation start by Saturday, January 30, 2016, and lasts for two weeks.

Exams start on Saturday, December 26, 2015, at Faculty of Archaeology, and on Tuesday, December 29, at Faculty of Commerce. They start at Faculties of Arts, Pharmacy and Faculty of Law, English Section, on December 31, and start at Faculties of Agriculture, Dar El-Ulum, Specific Education, Kindergarten and credit hour programs at Faculty of Engineering on January 2, 2016. Exams start on January 3 at Faculties of Economics and Political Science, Mass Communication and Faculty of Law, Arabic Section. They start on January 9 at Faculties of Engineering and Nursing, and start on January 11 at Faculties of Medicine and Urban Planning. Practical exams have already started at Faculties of Physical Therapy and Veterinary Medicine.

On his part, Prof. Dr. Gaber Nassar, Cairo University President, confirmed the importance of providing students with means of comfort during exam performance, the attendance of professors on time of their exams, and the speedup of exchanging student answers among them. Nassar also confirmed the importance of providing students with special needs with special committees and medical clinics, and providing security procedures necessary for exam halls. Cairo University President stressed that the cheat penalty approved by Cairo University Council will not be mitigated and accused students may be punished by study deprivation of a period up to a year or two years. Nassar pointed out that the university is committed to combating cheat in exams.
Latest News
The President of Cairo University thanks Cambridge for the courage shown in its return to fairer assessment methods, which restored the world's confidence in it.
Cairo University Celebrates Forty Fifth Anniversary of October Victory
Cairo University President Meets Vice-President of Renmin University of China to Discuss Means of Cooperation of Belt and Road Initiative with Ain Shams University President Attending
Open Dialog by Minister of Islamic Endowments and Cairo University President with Students about Deconstructing Extremist Ideologies
Cairo University Organizes International Forum for Cultural Heritage entitled Popular Literature and Interdisciplinary Studies in Participation with Researchers from 9 States
Back