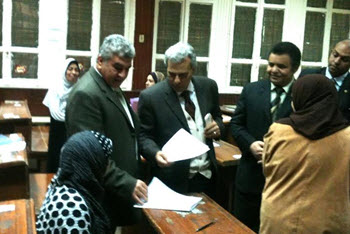 Prof. Dr. Gaber Nassar, Cairo University President, inspected the exam halls of Faculty of Dar El-Ulum students. During his tour in the halls, he was accompanied by Prof. Dr. Alaa Raafat, Dean of Faculty of Dar El-Ulum. Nassar was reassured of the progress of holding the exams for faculty students, and providing all their requirements. He talked with a number of first year students who performed their exams. He consulted with them on the exam circumstances and proctor treatment with them inside halls. He also talked with them on the new exam system (bubble answer sheet) which the faculty started to apply on first year students. It is an exam model that allows students to select the correct answers and correct answer sheets by computer, it is the nearest to the American examination system which correction process is unmistakable. Students mentioned that this method is preferable in examination and evaluation, far from essay question and answers that take time, and it includes multiple choices that cover the entire curriculum. Cairo University President asked the students whether they are satisfied with the reference books which the faculty provided the students with this year fetching up to 110 EGPs only in one academic term. The students showed their satisfaction with the way books were accessed to them this year in all the curricula.





On the fringe of his tour to inspect the exams that Faculty of Dar El-Ulum students performed, Prof. Dr. Gaber Nassar said that the new exam system applied by the faculty on its first year students as a start to apply it in the exams of all students is not as problematic as essay questions and saves time in both answering and correcting them. It also helps in reducing the exam cost and suits other theoretical faculties. He added that Cairo University Council decided to establish a center, affiliated to the university administration, which aims at preparing reports and studies on exam systems, methods of student evaluation, and preparing models for exam systems that suit medical, basic, human and social sectors. This is to start developing exam system at the university faculties. Prof. Dr. Nassar pointed out that the university has a strategy for developing education and the curricula that depends on reference assets, as well as developing exam and assessment systems.
Latest News
The President of Cairo University thanks Cambridge for the courage shown in its return to fairer assessment methods, which restored the world's confidence in it.
Cairo University Celebrates Forty Fifth Anniversary of October Victory
Cairo University President Meets Vice-President of Renmin University of China to Discuss Means of Cooperation of Belt and Road Initiative with Ain Shams University President Attending
Open Dialog by Minister of Islamic Endowments and Cairo University President with Students about Deconstructing Extremist Ideologies
Cairo University Organizes International Forum for Cultural Heritage entitled Popular Literature and Interdisciplinary Studies in Participation with Researchers from 9 States
Back