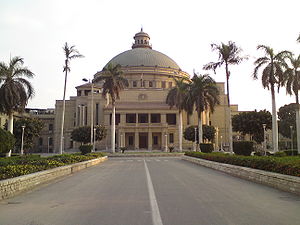 Oriental Studies Center – Cairo University organizes an international conference, entitled ،،Legacy and Oriental Arts", in cooperation with Department of Oriental Languages and Literature, Faculty of Arts, Cairo University. The conference starts on Tuesday, April 12, 2016, at auditorium 78, Faculty of Arts.
The conference is sponsored by Prof. Dr. Gaber Nassar, Cairo University President, Prof. Dr. Said Daw, Cairo University Vice-President for Community service and Environment Development, Prof. Dr. Moataz Abdullah, Faculty of Arts Dean. Elite of oriental arts pioneers and professors inside and outside the faculty, led by Prof. Dr. Gamal El-Shazly, Head of Oriental Languages Department, and Prof. Dr. Naglaa Raafat Salem, Director of Oriental Studies Center, participate in the conference.
Elite of professors of Languages and Translation at Al-Azhar University, Ain Shams University, Helwan University, Tanta University, Alexandria University, Mansoura University, Sohag University, and South Valley University participate in the conference. Besides, professors of Academy of Arts – High Institute for Popular Arts, and professors of Ministry of Education participate in the conference as well.
Prof. Dr. Naglaa Raafat, Director of Oriental Studies Center, said that the conference encompasses several themes. Such themes are legacy in Arabic literature, legacy in Persian literature, and legacy in Hebrew, Turkish, Urdu, Syriac, Abyssinian, Chinese and Japanese literatures. Prof. Dr. Naglaa Raafat added that some of the conference sessions focus on Feminist Thought, and Japanese Literary Legacy, whereas other sessions tackle Legacy Concept in Child Theater, and some Religious Legacy Manifestations in Zionist Discourse.
Latest News
The President of Cairo University thanks Cambridge for the courage shown in its return to fairer assessment methods, which restored the world's confidence in it.
Cairo University Celebrates Forty Fifth Anniversary of October Victory
Cairo University President Meets Vice-President of Renmin University of China to Discuss Means of Cooperation of Belt and Road Initiative with Ain Shams University President Attending
Open Dialog by Minister of Islamic Endowments and Cairo University President with Students about Deconstructing Extremist Ideologies
Cairo University Organizes International Forum for Cultural Heritage entitled Popular Literature and Interdisciplinary Studies in Participation with Researchers from 9 States
Back