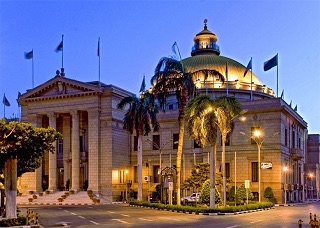 Cairo University organizes a celebration, on Sunday, April 24, 2016, for certifying two new classes of youth journalists after passing training courses qualifying journalists to be enrolled on Syndicate of Journalists. The training courses took place at Faculty and Leadership Development Center – Cairo University (FLDC-CU), in the framework of a Protocol signed between Syndicate of Journalists and Cairo University concerning training new editors before enrolling them at the syndicate as apprentices. The certification celebration was attended by Prof. Dr. Gaber Nassar, Cairo University President, Yehia Kallash, Chief of Egyptian Journalists Syndicate, Prof. Dr. Amr Adly, Cairo University Vice-President for Graduate Studies and Research Affairs, Prof. Dr. Amr Mustafa, Director of FLDC-CU, and elite of media men. About two new classes of 318 journalists from different newspapers, including some editors of higher education affairs, were certified.

The Director of FLDC-CU, Amr Mustafa, said that the training courses presented by the center to youth journalists add to them new knowledge. He pointed out that training fields and skills development offered to them include media legislations, writing skills, arts of journalism, computer skills, English language, and Arabic language. Amr Mustafa added that the center trained about 750 journalists since launching the training program in January 2015 for youth journalists. The program was launched according to partnership agreement with Journalists Syndicate in training new editors before enrolling them in the syndicate. The course also aims at training 1200 journalists annually at FLDC-CU in the framework of a program agreed upon and the requirements necessary for its success, including training material, training aids, lecture halls equipment and accredited trainers.
Latest News
The President of Cairo University thanks Cambridge for the courage shown in its return to fairer assessment methods, which restored the world's confidence in it.
Cairo University Celebrates Forty Fifth Anniversary of October Victory
Cairo University President Meets Vice-President of Renmin University of China to Discuss Means of Cooperation of Belt and Road Initiative with Ain Shams University President Attending
Open Dialog by Minister of Islamic Endowments and Cairo University President with Students about Deconstructing Extremist Ideologies
Cairo University Organizes International Forum for Cultural Heritage entitled Popular Literature and Interdisciplinary Studies in Participation with Researchers from 9 States
Back