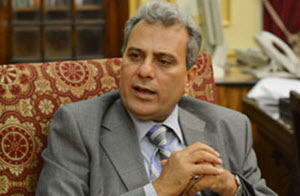 Cairo University President Prof. Dr. Gaber Nassar participated in the fifth international Arabic language conference convened at Dubai, from May 5 to May 8, 2016. Cairo University President said that no language in the history of humanity is honored as the Arabic language which has been made the language of the Holy Quran by Allah (S.W.T.). It has also been honored to be the language of worship as there are approximately two billion Muslims at the world level. Cairo University President added that supposing that the problem of disinclination towards the practice of the Arabic language is because it is difficult in comparison to other languages, difficulty, however, cannot be considered a pivotal factor. This is because language difficulty can be overcome by different means of media. Home, pre-university and university education are also seriously responsible for language acquisition. Cairo University President pointed out that all educational and cultural institutions in the Arab world should be mobilized to save the Arabic language, Arab identity and future

Nassar said that because of the great value and status of Arabic language in the life of Arabs and Muslims, occupation was keen on weakening its position and imposing the linguistic dominance of occupation over the occupied peoples. This is to make the occupied peoples totally subjugated and absolutely loyal to occupation because language enunciates identity, patriotism, nationality, cultural self and civilizational heritage, including the sciences, history and civilizations of Arabs. He pointed out that the relation between Arabic and the rising generations became weak to the extent that youth are averse to practice the language. Besides, the Arabic language is exposed to aggression from time to time by enemies of Arab nation and Islamic culture.

Prof. Dr. Gaber Nassar presented a working paper, entitled ،،The Efforts of Arab Universities in Serving the Arabic Language,, , in a working session of the conference in which he referred to the Arabic language reality in Cairo University. He said that Arabs can experience the reality of the Arabic language through specialized academic institutes of teaching Arabic. Faculty of Dar El-Ulum is the most ancient specialized academic faculty of teaching Arabic language and literature. It was established in 1872 and was annexed to Cairo University in 1946. Study in this faculty is composed of two types of sciences; one is basic Arabic language sciences and the other is helping sciences of Arabic language learning. Basic Arabic language sciences include Grammar and Syntax sciences, Philology, Semitic and Oriental languages. Whereas the sciences that help in learning Arabic are criticism and literary sciences, including history of literature, literary texts, criticism, rhetoric and comparative literature.

Gaber Nassar added that the other Arabic learning institute is Faculty of Arts, which is one of the most ancient faculties of Cairo University. It was established in 1908 then was annexed to the university in 1925. The Department of Arabic Language and Literature is one of the most prominent departments of the faculty. Arabic Department witnessed major thinkers and men of letters in the modern age like Taha Hussein, Soheir el-Qalamawy, Shawqi Daif, Hussein Nassar, Shokry Ayad, Mahmoud Shaker, Abdel-Aziz El-Ahwany, Mahmoud Ali Mekky, Nabila Hanem Ibrahim and Abdel-Hamid Younis. In addition, Ezzuldin Ismail, Mohamed Mandour, Mohamed Kamel Hussein, Sheikh Amin El-Kholy, Aisha Abd al-Rahman and Gaber Asfour were also notable figures who graduated from Arabic Department. Moreover, there are other faculties interested in Arabic in terms of Arabic language functions, such as Faculty of Mass Communication and Faculty of Law. These two faculties utilize specialist professors in teaching Arabic to qualify students able to use Arabic appropriately in fields of media, judiciary and attorneyship.

Cairo University President said that the concern of Cairo University with Arabic language is not limited to specialized faculties in teaching it. This concern increased by establishing special centers that adopt the issue of teaching the language in terms of writing, listening and speaking. These centers are Languages Training Center – Faculty of Dar El-Ulum, Center for Foreign Languages and Professional Translation – Faculty of Arts, and Arabic and Semitic Languages Center – Faculty of Arts. These centers aims at helping expatriate non-Arabic speaking students in order for them to react positively with their colleagues and understand the sciences they study in Arabic.

Cairo University plays an essential role in promoting Arabic language in pre-university education stages. This role is represented in the document issued by the university ten years ago on the occasion of the centennial anniversary of Cairo University. The document seeks promoting Arabic at the level of education, acquisition and evaluation to make it closer to student mentality and inclination. In addition, it seeks going ahead with the language to wider horizons of understanding, dialogue and cultural exchange. This document was prepared by a large number of academicians, educators, Academy of the Arabic Language, Arabic Tongue Society, and some of Cairo University graduates. The document also aims at providing those who are involved in teaching Arabic with a clear conception of Arabic curriculum in general education stages to help them in directing the educational process with its various fields.

Nassar discussed the problems that face teaching Arabic, including the linguistic duality, which means that colloquial accents represent the most prominent challenges for Classical Arabic. For example, Egyptian student is influenced with Egyptian accent and the same with the rest of accents. Moreover, the grammatical problem or the method of introducing the Arabic language rules to coevals ranging from school students to major specialists should be changed. Nassar added that the method of introducing the Arabic language rules needs a radical revision and not just changing some examples and illustrations.

Nassar called for making suitable Arabic equivalents for foreign terminology prevailed because of the outreach of technology in order for the Arabic language not to lag behind the civilization of the age.

As a conclusion, Cairo University President said that Arabs are required to discuss the Arabic language education problems. Proper Arabic language knowledge is not confined to some specialists alone, but it should be worked on so as the basic Arabic language knowledge be available for every educated Arab. We should remove all the obstacles that prevent the achievement of this target. Arabs should resist all the challenges that face our mother tongue so that we can restore its status among languages and restore our position among peoples for language is an element of identity.
Latest News
The President of Cairo University thanks Cambridge for the courage shown in its return to fairer assessment methods, which restored the world's confidence in it.
Cairo University Celebrates Forty Fifth Anniversary of October Victory
Cairo University President Meets Vice-President of Renmin University of China to Discuss Means of Cooperation of Belt and Road Initiative with Ain Shams University President Attending
Open Dialog by Minister of Islamic Endowments and Cairo University President with Students about Deconstructing Extremist Ideologies
Cairo University Organizes International Forum for Cultural Heritage entitled Popular Literature and Interdisciplinary Studies in Participation with Researchers from 9 States
Back