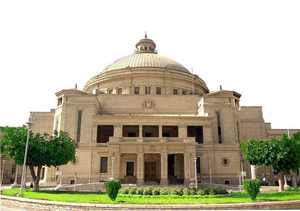 Cairo University President opens a workshop organized by Nanotechnology Center on the uses of nanotechnology in solar energy, at 10:30 a.m., Saturday, June 4, 2016, at Nanotechnology Center, Cairo University Branch at Sheikh Zayed.
The workshop witnesses the attendance of Kafr Al-Sheikh, South Valley and Fayoum Universities Presidents, Cairo University Vice President for Graduate Studies and Research, professors of Nanotechnology Center and nanotechnology experts from outside the university. The workshop discusses, in two sessions, the researches conducted by the center experts for nanotechnology uses in solar energy. The details of solar energy diploma, financed by European Union (EU) and launched among Cairo University, Fayoum University and New Valley University, are to be announced during the workshop.
Latest News
The President of Cairo University thanks Cambridge for the courage shown in its return to fairer assessment methods, which restored the world's confidence in it.
Cairo University Celebrates Forty Fifth Anniversary of October Victory
Cairo University President Meets Vice-President of Renmin University of China to Discuss Means of Cooperation of Belt and Road Initiative with Ain Shams University President Attending
Open Dialog by Minister of Islamic Endowments and Cairo University President with Students about Deconstructing Extremist Ideologies
Cairo University Organizes International Forum for Cultural Heritage entitled Popular Literature and Interdisciplinary Studies in Participation with Researchers from 9 States
Back