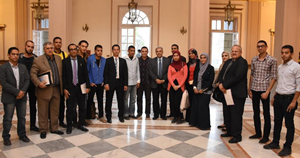 Cairo University announced the names of ،،Iqraa,, competition winners. The competition is organized for Cairo University students throughout the second term. It is aimed at activating the enlightening role that the university plays among students. Students are encouraged to read, think in, and analyze what they read whether by presenting their points of view regarding the books or reading the books and presenting a summary on them. The university allocated EGP 100, 000 award to winners.
Cairo University President Gaber Nassar held a meeting with the winning students of ،،Iqraa,, competition whom number is 18 students from different faculties. The students names are Mohamed Abdel-Rahman, Mohamed Walid Fathullah, Abdullah Mohamed, Ahmed El-Sayed, Mustafa El-Sayad, Nermin Ahmed, Enas El-Zaher, Abdel-Shafei Khaled, Ayman Abdel-Qawy, Doaa Abdel-Halim, Shaaban Ashour, Hussein Riyad, Diaa-Eldin Mohamed, Zeinal El-Farmawy, Ibrahim Abdel-Fattah, Mohannad Abd-Rabbu, Abdel-Khalek Attallah and Ahmed Shaaban. The meeting was attended by Cairo University Vice-President for Education and Students Affairs Mohamed Osman El-Khosht, Cairo University Cultural Consultant Abdullah El-Tatawy and Cairo University Secretary-General Youssry Ibrahim.
Prof. Dr. Gaber Nassar announced, during the meeting, holding a ceremony at 5 p.m., Wednesday, December 7, 2016, at Ahmed Lotfy Hall, Cairo University, for honoring the winning students and distributing among them awards allocated by the university. Prof. Dr. Gaber Nassar said that ،،Iqraa,, competition will be converted into a cultural institution at Cairo University for handling societal problems by adopting an issue in society and presenting a research and vision regarding them.,,
Cairo University Vice-President for Education and Student Affairs Mohamed Osman El-Khosht said that ،،Iqraa competition revolved around 3 books that represent more than one stage in the enlightening history of thought in Egypt and Arab region. Those books are interested in the issue of renaissance, reformation, and openness to human heritage. The books are The Future of Culture in Egypt, by Dr. Taha Hussein, Islam and the Foundations of Governance, by Ali Abdel-Raziq and Our Decline: Its Causes and Remedies, by Shakib Arslan. The Scientific Committee and expert arbitrators, including the university professors, finished their selection of 18 winning students with 6 winners per book.,,
Latest News
The President of Cairo University thanks Cambridge for the courage shown in its return to fairer assessment methods, which restored the world's confidence in it.
Cairo University Celebrates Forty Fifth Anniversary of October Victory
Cairo University President Meets Vice-President of Renmin University of China to Discuss Means of Cooperation of Belt and Road Initiative with Ain Shams University President Attending
Open Dialog by Minister of Islamic Endowments and Cairo University President with Students about Deconstructing Extremist Ideologies
Cairo University Organizes International Forum for Cultural Heritage entitled Popular Literature and Interdisciplinary Studies in Participation with Researchers from 9 States
Back