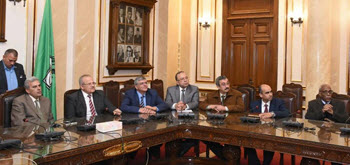 Cairo University President Gaber Nassar gave the signal to start the operation of the first high-speed optical fibers network at Cairo University, Sheikh Zayed branch campus, through a video conference on January 3, 2017, in the framework of information technology strategic plan at Cairo University. Launching the signal to start at Cairo University Administration was witnessed by Cairo University Vice-Presidents, Cairo University Secretary-General and the Director of Cairo University Center for Electronic and Cognitive Services. This project is carried out under the supervision of Cairo University Center for Electronic and Cognitive Services in cooperation with Center for Electronic and Cognitive Services at Supreme Council for Universities. It is considered a special transfer for information network structure at Sheikh Zayed Cairo University Branch. The networking efficiency will be increased from 8 Megabytes in a second to 110 megabits in a second. The campus of Cairo University Sheikh Zayed branch will be linked to the main campus of Cairo University at Giza to help connecting and allowing all electronic services, student, teaching staff members and employees databases at Sheikh Zayed as if they are at the main campus.
Cairo University campus at Sheikh Zayed branch includes branches for some university faculties such as Faculty of Commerce, Faculty of Law, Faculty of Oral and Dental Medicine and Faculty of Pharmacy. Sheikh Zayed campus also includes distinctive research centers such as Nanotechnology Center and High-Performance Computing Center which can be allowed for researchers at the main campus of Cairo University to use through high-performance networking connection which was carried out in the project.
Latest News
The President of Cairo University thanks Cambridge for the courage shown in its return to fairer assessment methods, which restored the world's confidence in it.
Cairo University Celebrates Forty Fifth Anniversary of October Victory
Cairo University President Meets Vice-President of Renmin University of China to Discuss Means of Cooperation of Belt and Road Initiative with Ain Shams University President Attending
Open Dialog by Minister of Islamic Endowments and Cairo University President with Students about Deconstructing Extremist Ideologies
Cairo University Organizes International Forum for Cultural Heritage entitled Popular Literature and Interdisciplinary Studies in Participation with Researchers from 9 States
Back