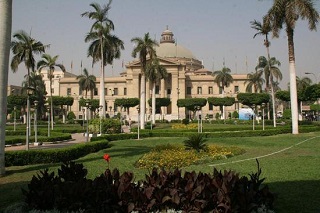 Cairo University Center for Open Education announces the prerequisites of enrolling entrant students in the stage of B. Sc. of Commerce (Business Science) as blended education system which Supreme Council for Universities approved and agreed on its bylaw and implementation at other universities. Open Education Center announces allowing the opportunity for holders of General Secondary certificate and their equivalents; intermediate certificates, al-Azhar Secondary, and foreign certificates holders to apply to the program from October 1, 2017. The center announces study fees approved by the Board of Directors.
Registration in B.Sc. of Commerce (business) as blended education system starts from Sunday, October 1, 2017. Placement test will be held on October 8, 2017, in the basics of Arabic, English, and computer. Opportunity of applying to another exam is allowed with new fees in case of failure in the first placement test.
The center announces the documents required for applying to the new program. The documents required are certificate of qualification, birth certificate, recruitment certificate (males), photocopy of ID or passport, and two personal photos. Subject degrees statement is submitted for considering its equivalence to the program syllabuses in case of having pre-advanced or high qualification.
Cairo University President Mohamed Osman Elkhosht said that ،،Cairo University develops infra and technological structure of Open Education Center to meet education quality requirements and rules regarding achieving the graduate specifications according to the most modern means of teaching and evaluation.,, He pointed out that ،،Cairo University and its faculties are keen on developing open education into blended learning and presenting distinctive programs that cope with labor market requirements and global developments in distance education.,, He added that ،،Developed programs vary from professional programs to academic programs that meet society needs.,, Elkhosht urges Cairo University to implement all the decrees of Supreme Council for Universities regarding developing open education into blended learning.
Latest News
The President of Cairo University thanks Cambridge for the courage shown in its return to fairer assessment methods, which restored the world's confidence in it.
Cairo University Celebrates Forty Fifth Anniversary of October Victory
Cairo University President Meets Vice-President of Renmin University of China to Discuss Means of Cooperation of Belt and Road Initiative with Ain Shams University President Attending
Open Dialog by Minister of Islamic Endowments and Cairo University President with Students about Deconstructing Extremist Ideologies
Cairo University Organizes International Forum for Cultural Heritage entitled Popular Literature and Interdisciplinary Studies in Participation with Researchers from 9 States
Back