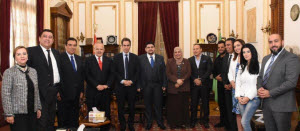 Cairo University President Mohamed Osman Elkhosht opens Arab Forum for Media Training organized by Cairo University Faculty of Mass Communication, at Grand Celebration Hall, on Monday, October 30, 2017. The forum is attended by Director of the Technical Secretariat for Council of Arab Ministers of Information at the Arab League of Arab States Fawzy el Ghawil, Representative of the Minister of Higher Education Adel Abdelghaffar, some deans and Egyptian and Arab professors of mass communication, elite of heads of TV channels and networks, and some prominent media professionals in Egypt and the Arab World.
Elkhosht said in his speech for the forum that ،،Scientific research should be employed for the interest of society, therefore, education should be connected to labor market and inclusive development. This was announced by Cairo University on August 1, 2017, about the age when Cairo University will be a third-generation university that bridges the gap between education and labor market needs through training especially in case it is available for successful performers.,,
Cairo University President added that ،،Specialized field age reached its end and interdisciplinary specializations should be activated. Media professionals will study other disciplines; psychology, sociology, philosophy and medicine, in addition to their main discipline.,, Cairo University President illustrated the importance of entrepreneurship through which students conduct their projects themselves.
Elkhosht pointed out that ،،Egyptians should live media age which leads public opinion and change the real world. Media plays a positive role in the virtual world we live. Media and art have important role in leading society.,, He added that ،،Media role is not confined only to transmitting events, but is also able to change public awareness.,,
Faculty of Mass Communication Dean at Cairo University Gihan Youssry said that ،،Faculty of Mass Communication aims at creative and continuing interaction with future, and seeks achieving training through varied programs directed by media competencies and big names to shed important light on their future role.,, She pointed out that ،،Arab Forum for Media Training includes different representatives of Egyptian and Arab mass media and media students and graduates to expand creative horizons and employ media technology.,,
Dr. Gihan Youssry said that ،،Training is essential for professional media and graduation of media professionals who have modern tools and interact with new media.,, She pointed out that ،،This forum seeks providing distinctive and inclusive training. Training varies according to the forum activities and the faculty questionnaire so that the programs be real, integrate needs, and interact with modern global trainings.,, She said that ،،Faculty aims at establishing innovative spirit for students and mass interests in maximizing utilization.,,
First Arab Forum for Media Training honors Cairo University President Mohamed Osman Elkhosht and presents him the forum shield.
Organizing this training forum is made within the framework of the role played by Faculty of Mass Communication Cairo University in the Arab Region and meeting the needs of media labor market by developing the technical abilities of students. The training forum is aimed at enhancing the efficiency of media professionals graduated from different Arab universities by training them on different skills of media work skills according to latest techniques and methods under the supervision of distinctive and effective media experts in the Arab World.
Latest News
The President of Cairo University thanks Cambridge for the courage shown in its return to fairer assessment methods, which restored the world's confidence in it.
Cairo University Celebrates Forty Fifth Anniversary of October Victory
Cairo University President Meets Vice-President of Renmin University of China to Discuss Means of Cooperation of Belt and Road Initiative with Ain Shams University President Attending
Open Dialog by Minister of Islamic Endowments and Cairo University President with Students about Deconstructing Extremist Ideologies
Cairo University Organizes International Forum for Cultural Heritage entitled Popular Literature and Interdisciplinary Studies in Participation with Researchers from 9 States
Back