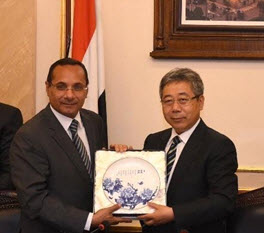 The Chinese Education Minister Chen Baosheng visits Cairo University on Saturday, November 4, 2017. The Chinese minister is received by Cairo University Vice-Dean for Community Service and Environmental Development Saeed Daw on behalf of Cairo University President who is in World Youth Forum at Sharm Elsheikh.
The Chinese minister visits Confucius Institute Cairo University which is founded at Cairo University in 2007 in cooperation with Chinese government. He meets the institute students with Cairo University Vice-President and the Institute Director Rehab Mahmoud attending.
The Chinese minister witnesses some artistic shows of learners during his tour at Confucius Institute. He openly conversed with students on Chinese language study and cultural relations between Egypt and China.
Chen Baosheng enunciates his pleasure of the student high level regarding their knowledge of Chinese civilization and culture and study of Chinese language which he inferred from the artistic shows they presented. He acclaims the high quality of the Chinese language and culture teaching potentials reflected on Cairo University and Confucius Institute plan for enhancing openness between Egypt and China in the upcoming years.
Cairo University Vice-President for Community Service and Environmental Development Saeed Daw said that ،،Cairo University will open a new building for Confucius Institute soon. The building is one of the outcomes of cooperating with China in cultural and educational relations.,, He pointed out that ،،Cairo University looks forward to developing relations with education institutions in China.,, He added that ،،Cairo University plans for establishing international branch and seeks cooperation with Chinese universities in specific scientific disciplines.,, This was also touched upon by Cairo University President Mohamed Osman Elkhosht regarding the consideration of East Asia in student exchange, educational cooperation, and research cooperation.
The Director of Confucius Institute Rehab Mahmoud said that ،،The visit of the Chinese Minister of Education represents new momentum for Confucius Institute Cairo University which celebrates the passage of 10 years since its establishment.,, She pointed out that ،،The accomplishments achieved by the institute in ten years are represented in the increase of learners number, increase of scholarships number, and establishing a new building for Confucius Institute.,, She added that ،،Confucius Institute won best Confucius Institute at the global level which is the outcome of effort years.,,
Prof. Dr. Saeed Daw presented the Chinese Minister a book of Cairo University history, Compact Disk (CD) that contains the Chinese translation of the book, and Cairo University shield.
Latest News
The President of Cairo University thanks Cambridge for the courage shown in its return to fairer assessment methods, which restored the world's confidence in it.
Cairo University Celebrates Forty Fifth Anniversary of October Victory
Cairo University President Meets Vice-President of Renmin University of China to Discuss Means of Cooperation of Belt and Road Initiative with Ain Shams University President Attending
Open Dialog by Minister of Islamic Endowments and Cairo University President with Students about Deconstructing Extremist Ideologies
Cairo University Organizes International Forum for Cultural Heritage entitled Popular Literature and Interdisciplinary Studies in Participation with Researchers from 9 States
Back