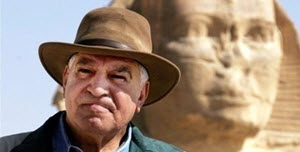 Cairo University hosts Journalist Salah Montasser, Member of Supreme Council of Journalism, in open dialog with students in cultural salon at Grand Celebration Hall at Cairo University on Wednesday, November 15, 2017, at 1 p.m. Cairo University President Mohamed Osman Elkhosht said that ،،Cultural salon is one of the outcomes of Cairo University Document for Culture and Enlightenment which is drafted and announced in October 2017. The salon is aimed at holding dialogs between Cairo University students and salon guests including thinkers who write in some issues they are concerned with and attracting students.,,
Prof. Dr. Mohamed Osman Elkhosht announces that Cairo University will host Egyptologist Dr. Zahi Hawass in a seminar at Grand Celebration Hall, Cairo University, on November 28, 2017. The seminar is one of the activities of cultural salon this academic year. Hawass is going to talk on new secrets about pharaohs. His book ،،The Miracle of Great Pyramid of Khufu,, will be distributed on students.
Latest News
The President of Cairo University thanks Cambridge for the courage shown in its return to fairer assessment methods, which restored the world's confidence in it.
Cairo University Celebrates Forty Fifth Anniversary of October Victory
Cairo University President Meets Vice-President of Renmin University of China to Discuss Means of Cooperation of Belt and Road Initiative with Ain Shams University President Attending
Open Dialog by Minister of Islamic Endowments and Cairo University President with Students about Deconstructing Extremist Ideologies
Cairo University Organizes International Forum for Cultural Heritage entitled Popular Literature and Interdisciplinary Studies in Participation with Researchers from 9 States
Back