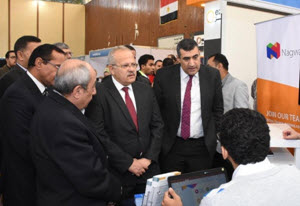 Elkhosht: Cairo University Seeks Providing Students with Entrepreneurship Skills to Run Business


Cairo University President Mohamed Osman Elkhosht inaugurates the annual employment and training forum organized by Faculty of Engineering Cairo University. The forum is organized in participation with 30 Egyptian companies and foundations working in engineering and offering employment and training opportunities to Faculty of Engineering students and graduates. Lectures and seminars are held as part of the forum activities to raise student awareness of employment requirements, graduation specifications, and employment skills.
Cairo University President said that Faculty of Engineering represents an important stage in modern Egyptian history since its establishment under the name of Mohandes Khana School. He acclaims the employment forum organized by the faculty including innovation, creativity, and opportunities by the participation of companies and foundations working in new engineering and technology fields. He pointed out that this is in the interest of Cairo University, its students, graduates, and society.
Elkhosht said that our utmost hope earlier was making employment forums, but the university works now on developing entrepreneurship skills for students to make their own business. He pointed out that employment forums are important, but entrepreneurship is more important and can be pursued by different workshops, training, and activities for small-scale and micro projects needed for Egypt. He added that entrepreneurship supports the trend sought by Cairo University for students to have entrepreneurs thought not employees thought. Elkhosht illustrated that positive ideas were suggested by the Minister of Investment Sahar Nasr during Faculty of Economics and Political Science conference. The ideas are related to developing a plan for all imports and sending them to the university so that researchers and scholars prepare studies and conduct research on local alternatives then head at concerned authority to provide local alternative for imported products.
Cairo University President acclaims some thoughts issued in the forum most important of which are dividing study subjects not only on academic basis but also on functional basis and supporting bridging between academic and industrial study which means that the subjects are studied by students according to work labor needs. He illustrated that directing towards entrepreneurship does not mean cancelling academic basis or professor role. He stresses the importance of integrating between the functional and academic sides along with conducting opinion polls by every faculty to group of companies and factories on faculty curriculum to meet labor market needs. This serves Cairo University direction towards transformation into a third-generation university that seeks satisfying educational and research services for society.
Latest News
The President of Cairo University thanks Cambridge for the courage shown in its return to fairer assessment methods, which restored the world's confidence in it.
Cairo University Celebrates Forty Fifth Anniversary of October Victory
Cairo University President Meets Vice-President of Renmin University of China to Discuss Means of Cooperation of Belt and Road Initiative with Ain Shams University President Attending
Open Dialog by Minister of Islamic Endowments and Cairo University President with Students about Deconstructing Extremist Ideologies
Cairo University Organizes International Forum for Cultural Heritage entitled Popular Literature and Interdisciplinary Studies in Participation with Researchers from 9 States
Back