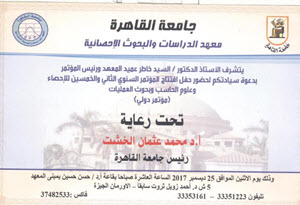 Cairo University President Mohamed Osman Elkhosht opens the fifty-second annual conference for statistics, computer science, operation research organized by Institute of Statistical Studies and Research Cairo University (ISSR – CU) on Monday, December 25, 2017, at 10 a.m. The conference activities continue for 3 days at Doctor Hassan Hussein Hall ISSR. It is attended by elite of experts, specialists, and representatives of many authorities, and economic, social, and scientific institutions at Egypt. The conference is aimed at operationalizing research partnership between Cairo University and national institutions working in the institute disciplines.
The Dean of Institute of Statistical Studies and Research Cairo University (ISSR – CU) and Conference Chairman Elsayed Khater said that many important topics will be discussed through 10 scientific sessions besides seminars and workshops embedded in the conference works. The topics include Egyptian Women and the reproductive increase, insurance and privacy in social media networks in the light of internet statistics 2017, the ethics of scientific research, and the role of society participation in accelerating development. Nearly 60 research papers in applied statistics, econometrics, population and vital statistics, computer science and information systems will be discussed. The papers tackle issues of human development and population, sustainable development, women and child, poverty rates, joblessness, and others.
Latest News
The President of Cairo University thanks Cambridge for the courage shown in its return to fairer assessment methods, which restored the world's confidence in it.
Cairo University Celebrates Forty Fifth Anniversary of October Victory
Cairo University President Meets Vice-President of Renmin University of China to Discuss Means of Cooperation of Belt and Road Initiative with Ain Shams University President Attending
Open Dialog by Minister of Islamic Endowments and Cairo University President with Students about Deconstructing Extremist Ideologies
Cairo University Organizes International Forum for Cultural Heritage entitled Popular Literature and Interdisciplinary Studies in Participation with Researchers from 9 States
Back