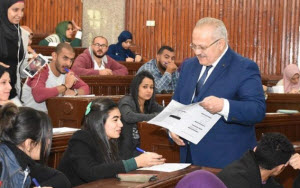 Cairo University President Mohamed Osman Elkhosht visits some faculties including Faculty of Arts, Faculty of Economics and Political Science, and Faculty of Archaeology to follow up the progress of first term exams. He is assured during his tour that exam headquarters are secured, and students are provided means of comfort to perform their exams including illumination and ventilation, professors and proctors, ambulances besides exam halls, and suitable halls for students with special needs provided with assistants.
Elkhosht explores the opinions of students regarding how proctors treat them inside exam halls and the level and duration of exams.
Cairo University President said in press releases during his tour that first term exams at faculties witness quietness to great extent. No cheating cases were detected except for few cases that did not affect exam progress which passes quietly since the beginning of exams on December 24. Students are abiding by exam system. Elkhosht pointed out that Cairo University took all arrangements for securing exam works, providing administrative security personnel for securing exam headquarters, and printing exam sheets on the same day of examination without circulating them through devices connected to internet to keep their secrecy. The subject professor should be attending at exam time.
Elkhosht said that exam results will be announced immediately after works of correction and monitoring. He pointed out that he logged into the students account on Facebook to sooth the anxiety of students to perform their exams without stress. He added that there is a committee of examiners at every faculty to come out with exams that suit curriculum, academic standards, and students level.
Elkhosht pointed out that all exams schedules are prepared sufficiently in advance, exams are printed out on the same day, and special measures are taken for securing exams and controls. He added that the problem-solving question is optional for students. It will be obligatory in the second term after students are trained on its steps. Problem-solving question is aimed at teaching students how to think scientifically and solve problems.
Elkhosht said that Cairo University is getting prepared for second term by the maintenance of study halls, lab devices, pursuing cultural season by cultural salon meetings, grand celebration hall seminars, and holding concert for Cairo University new orchestra, and artistic party for Conservatoire Higher Institute for Music.
Nearly 170, 000 students at B.Sc. and B.A. stages are performing exams at Cairo University faculties, besides 35, 000 postgraduate students.
Latest News
The President of Cairo University thanks Cambridge for the courage shown in its return to fairer assessment methods, which restored the world's confidence in it.
Cairo University Celebrates Forty Fifth Anniversary of October Victory
Cairo University President Meets Vice-President of Renmin University of China to Discuss Means of Cooperation of Belt and Road Initiative with Ain Shams University President Attending
Open Dialog by Minister of Islamic Endowments and Cairo University President with Students about Deconstructing Extremist Ideologies
Cairo University Organizes International Forum for Cultural Heritage entitled Popular Literature and Interdisciplinary Studies in Participation with Researchers from 9 States
Back