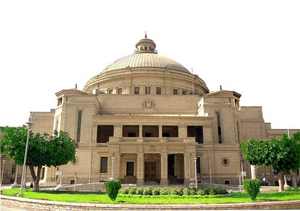 Heritage Library Development and Rehabilitation Project Launched in Exchange for EGP 75, 000, 000


Cairo University President Mohamed Osman Elkhosht transfers the case of heritage manuscripts stolen from Cairo University Heritage Library to prosecution. The stealing incident took place a year ago and Elkhosht transferred the case to prosecution three months ago.
Cairo University President transfers 9 employees working at Heritage Library to investigation at Central Administration for Legal Affairs at Cairo University.
Prof. Dr. Mohamed Osman Elkhosht issues a decree of forming committees for the stocktaking of all monumental and historical properties and manuscripts in Cairo University libraries and museums.
Cairo University President forms a committee to follow up Heritage Library development and rehabilitation project governed by one of the expertise centers in exchange for EGP 75, 000, 000.
Cairo University President urges keeping and maintaining Heritage Library for it contains large manuscripts and archaeological maps. He said there were attempts to develop it, but development should be to the full to include all aspects, therefore, we started preparing all studies related to development and maintaining them by a group of experts from Cairo University or other universities.
Prof. Dr. Mohamed Osman Elkhosht pointed out that Cairo University will start development works within the coming days with keeping and maintaining the historical, archaeological, and technical value of Heritage Library. Technology development means related to the library will be updated including developing surveillance systems were archaeological collections are found.
Heritage Library was inaugurated in 1932. The library is composed of a cellar and three floors. It encompasses historical and cultural wealth, thousands of manuscripts, and first historical publications and documents.
Latest News
The President of Cairo University thanks Cambridge for the courage shown in its return to fairer assessment methods, which restored the world's confidence in it.
Cairo University Celebrates Forty Fifth Anniversary of October Victory
Cairo University President Meets Vice-President of Renmin University of China to Discuss Means of Cooperation of Belt and Road Initiative with Ain Shams University President Attending
Open Dialog by Minister of Islamic Endowments and Cairo University President with Students about Deconstructing Extremist Ideologies
Cairo University Organizes International Forum for Cultural Heritage entitled Popular Literature and Interdisciplinary Studies in Participation with Researchers from 9 States
Back