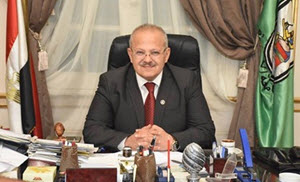 Cairo University President Mohamed Othman Elkhosht announces providing financial accreditation to faculty members and researchers awards, at different academic sectors, who published their international researches in the name of Cairo University in internationally ranked periodicals and journals in 2017. The financial accreditation amounts to EGP 29, 525, 000, for first and second releases in the same year. EGP 13, 767, 000, is accredited as international publication awards for the first release to 914 researchers publishing 1985 international researches. EGP 15, 757, 000, is accredited as international publication awards to the second release for 1010 researchers publishing 2053 researches.
Elkhosht added that there is an increase in the numbers of internationally published scientific researches of different faculties of Cairo University and their academic sectors amounting to 4038 scientific researches in the name of Cairo University in scientific journals and periodicals internationally ranked with 3.43%. Numbers of researchers increased with 10.50% and impact factors of Cairo University scientific researches internationally published in global scientific research forums increased for their quality and authenticity with 17.11% more than the impact factors of previous year. Nearly 8, 700 researches from Cairo University are quoted and awards allocated for international publication increased with 17% more than in May, 2017. Cairo University possesses 16.5% of the total international publication of Egypt.
Latest News
The President of Cairo University thanks Cambridge for the courage shown in its return to fairer assessment methods, which restored the world's confidence in it.
Cairo University Celebrates Forty Fifth Anniversary of October Victory
Cairo University President Meets Vice-President of Renmin University of China to Discuss Means of Cooperation of Belt and Road Initiative with Ain Shams University President Attending
Open Dialog by Minister of Islamic Endowments and Cairo University President with Students about Deconstructing Extremist Ideologies
Cairo University Organizes International Forum for Cultural Heritage entitled Popular Literature and Interdisciplinary Studies in Participation with Researchers from 9 States
Back