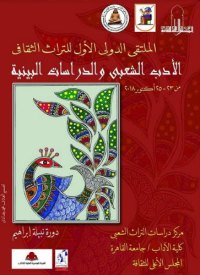 Center for Popular Heritage Studies at Faculty of Arts Cairo University organizes the first international forum for cultural heritage in cooperation with Supreme Council for Culture. The forum is entitled ،،Popular Literature and Interdisciplinary Studies,,. This course is run by Nabila Ibrahim from October 23 to 25, 2018.
Cairo University President Mohamed Othman Elkhosht inaugurates the conference activities at 10 on Tuesday, October 23, 2018, at Conference Hall, Faculty of Arts Cairo University. The activities of the forum are held in exchange between Cairo University and Supreme Council for Culture in participation with many researchers from Egypt and some Arab and Western countries including Algeria, Iraq, Tunisia, France, Jordan, Saudi Arabia, Sweden, Romania, and Lebanon.
The conference handles some themes; popular literature and human sciences, popular literature and cultural studies, popular literature and comparative studies, orientalism and Arab popular literature such as ،،One Thousand and One Night, Kalilah and Dimna, popular biographies in orientalist readings,,. The conference also handles popular literature and modern literary genres such as ،،Novel, Play, Short Story,, and popular literature and modern means of communication such as ،،Mass Media and Social Media,,.
The Manager of Center for Popular Heritage Studies Khaled Abuleil said that the scientific sessions, workshops and suggested themes in conference are launched from the correspondence of relations and the overlap between human sciences. He added that the importance of the forum stems from the increasing interest in popular studies in the framework of cultural contexts and their relations to human sciences and other social ones, as well as linking these studies with the cultural identity and mobilizing communities.
The forum is intended to highlight the leading role of Cairo University to promote the means of scientific communication between researchers in human and social science fields, reach out means of cooperation between Egyptian and non-Egyptian researchers, shed light on the most important touristic landmarks, and contribute to refreshment of cultural tourism.
Latest News
Cairo University Hosts 600 Imams and Preachers from the Ministry of Religious Endowments in an Educational Symposium sponsored by the Minister of Religious Endowments and the University President
Cairo University and the Chinese Ministry of Education sign a protocol to establish dual degrees
The President of Cairo University thanks Cambridge for the courage shown in its return to fairer assessment methods, which restored the world's confidence in it.
Cairo University Celebrates Forty Fifth Anniversary of October Victory
Cairo University President Meets Vice-President of Renmin University of China to Discuss Means of Cooperation of Belt and Road Initiative with Ain Shams University President Attending
Back