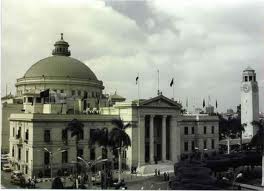 Employing forum for graduates has been organized by Faculty of Veterinary Medicine, Cairo University, on Thursday, April 4, 2013. This was made through cooperation between the faculty and 20 companies and foundations of animal production and food industry. In the context of forum inauguration activities, graduates met representatives of companies and foundations so as to get acquainted with available job opportunities in different disciplines.
Dr.\ Fathy Farouk, Dean of Faculty of Veterinary Medicine, Cairo University, declared that the forum is sponsored by Dr.\ Hossam Kamel, President of Cairo University. This was on the margin of Graduates Day celebration activities as well as honoring alumni of class 2008 – 2012 at Grand Hall, Cairo University.
Latest News
The President of Cairo University thanks Cambridge for the courage shown in its return to fairer assessment methods, which restored the world's confidence in it.
Cairo University Celebrates Forty Fifth Anniversary of October Victory
Cairo University President Meets Vice-President of Renmin University of China to Discuss Means of Cooperation of Belt and Road Initiative with Ain Shams University President Attending
Open Dialog by Minister of Islamic Endowments and Cairo University President with Students about Deconstructing Extremist Ideologies
Cairo University Organizes International Forum for Cultural Heritage entitled Popular Literature and Interdisciplinary Studies in Participation with Researchers from 9 States
Back