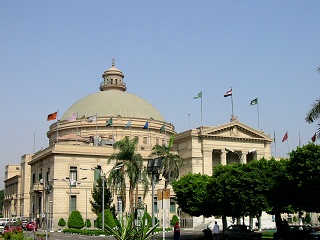 In the meeting held on 29/5/2013, headed by Dr.\ Husam Kamel, President of Cairo University, Cairo University's Council has displayed the tasks and procedures conducted at all faculties of the university, concerning second term exams. The council confirmed the necessity of announcing all exams results of faculties before 15/7.
The council has also displayed all what have been achieved in fields of educational, research, service, and social projects which were included in the electoral program of Dr.\ Husam Kamel, President of Cairo University, since being elected as a president of Cairo University until the end of his presidency for the university by the end of July, 2013. Among the achievements were inauguration of Nanotechnology Center and Nuclear Studies Center, initiating the university's housing project, developing Cairo University Rowing Club, developing Guest House, founding the infrastructure of National Cancer Institute, developing Health Care Project for staff members and employees of the university, as well as all what is related to boosting the educational process of faculties; increasing international scientific publication in global periodicals, and preserving the university's status in World University Rankings.
Cairo University's Council approved allocating 15 acres, at Cairo University's branch at El-Sheikh Zayed, The sixth of October City, for establishing Rehabilitation for Disabled Center, subordinated to Faculty of Nursing, Cairo University. The council has also approved establishing M.Sc. degree in pediatric neurology at Faculty of Medicine, Kasr Al-Ainy.
Latest News
The President of Cairo University thanks Cambridge for the courage shown in its return to fairer assessment methods, which restored the world's confidence in it.
Cairo University Celebrates Forty Fifth Anniversary of October Victory
Cairo University President Meets Vice-President of Renmin University of China to Discuss Means of Cooperation of Belt and Road Initiative with Ain Shams University President Attending
Open Dialog by Minister of Islamic Endowments and Cairo University President with Students about Deconstructing Extremist Ideologies
Cairo University Organizes International Forum for Cultural Heritage entitled Popular Literature and Interdisciplinary Studies in Participation with Researchers from 9 States
Back